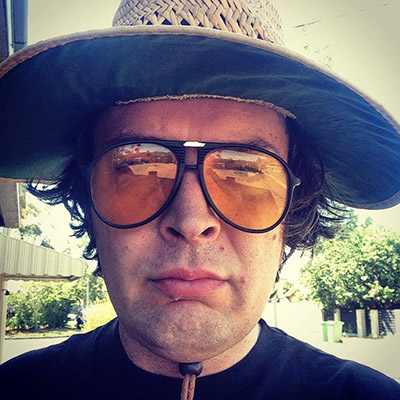 Once 1999 clicked into 2000, I struggled to recall one year from the next. What I do know is LCMR (Late Century Modern Recordings) released a blue vinyl version of Razar's "Stamp Out Disco" 7" and (unsurprisingly) it popped up on various selling sites like mushrooms as the 100 pressed had all sold just after lunch on Record Store Day.
Our label also released one of the weirdest pop records to come out of Brisbane by Sneaky Radio. A week or so after the release, Ross Lovell (the man behind the moniker) phoned me to ask how many copies we'd sold. I said about 40. He quickly replied without a second's thought and said in his soft, inimitable voice: "That's 40 more than what I did!" Needless to say, if you like outsider music, may I recommend it to you.
It goes without saying that I thought The Aints! most recent tour on the back of their "Church of Simultaneous Existence" was exceptional. Audiences in Brisbane were treated to solo set of mostly tunes from his last (and some say final) solo album "Lost Cities" followed by a set of Saints tunes, topped off by the new Aints! LP in full and a long encore - with my maths suggesting a sonic extravaganza of about three hours.