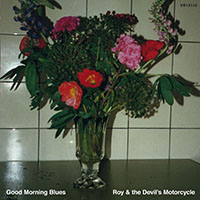 Good Morning Blues – Roy and the Devil's Motorcycle (Voodoo Rhythm)

In case you never noticed, this place often celebrates the weird and non-conformist end of the rock and roll spectrum, and it doesn't come much stranger than Swiss band Roy and the Devil's Motorcycle.
Resident on the Voodoo Rhythm label ("Music to Ruin Any Party") since it first released this, their debut 10-inch mini-album, back in 1996, its mix of bass-less, guitar distort-skronk and megaphonic vocals sounded fucked up then and sounds fucked up today.
It's worth adding context: "Good Morning Blues" was unleashed on a world full of techno and the Real Rock and Roll landscape was a wasteland. Major labels still roamed what a musical Jurassic Park, looking for underground bands from which they could extract blood and turn into mainstream melange. A dead dog's scrotum had more chance of being signed than Roy and the Devil's Motorcycle.