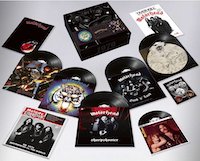 1979 - Motorhead (BMG)
You all know who Motorhead are. You may dig them, you may not – although I can't fathom how any true rock fan couldn't. For mine, there has never been a more authentic, hard-hitting, long-lasting, and utterly committed rock band. Frontman Ian "Lemmy" Kilmister frequently opined that they were simply than the dirtiest rock and roll band on the planet, disagreeing with the oft-applied heavy metal label.
As a teenager in the '80s they were definitely metal to me – they were louder, faster, and grittier than anyone else – but with the benefit of hindsight, I understand why he proclaimed: "We Are Motorhead – And We Play Rock And Roll" at the start of every gig for their last few decades. Having said that, without doubt they inspired generations of metal bands, as well as many in other genres.