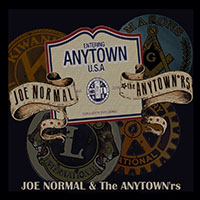 Broooooce Springsteen? Can't abide him. It's OK if you do. Different strokes for different folks, right? He's well and truly present on this three-tracker CD - at least in spirit - but I like it in spite of that.
Like Broooce, Joe Normal and The Anytownr's frontman Joe Normal grew up among the factories of New Jersey - before making a break for L.A. So the bio says. And he's landed on Pat (Lazy Cowgirls) Todd's Rankoutsider Records. Now you're talking…
Rankoutsider is an outpost of genuine rock and roll, stripped back to its roots rather than wrapped up in ideas of blandness and mainstream acceptance. Joe Normal is backed by journeymen players whose curriculum vitae includes Stiv Bators, Sussana Hoffs, Syl Sylvain and Izzy Stradlin.So they've been around.