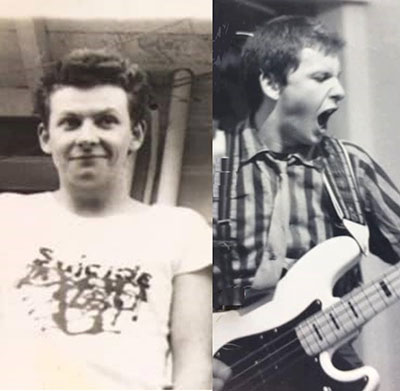 GRAHAM HOOD
The Johnnys, Allniters, The Troughmen, The Cool Charmers, The Normals et al
"10 Highlights of my Punk pilgrimage across America"

1. In late 1978 I was naïve, wide eyed and bushy tailed, 20 years of age and full of beans, myself and two companions left Auckland, NZ and headed to LA on our mighty search for Punk Rock. There was a bunch of funky Afro American dudes on the flight in the seats in front of us, they kept hanging over the back of the seats and enquiring if we were punk rock? I said well we are punk rockers if that's what you mean, they were very keen to find out about us and the music and kept buying us drinks – turned out they were Andrea True Connections' backing band heading home from Australia. After a several drinks we were all singing "More More More how do you like it, how do you like it"! Much to the chagrin of our fellow travellers.
2. Arriving in LA, the enormity of the place dawned on me . Our hotel downtown was really scary; we huddled in a corner of the room all night and listened to the fighting going on in the corridor whilst watching the door handle going up and down as the door was being tried. We moved to Hollywood the next day to a Motel 6 - equally as dodgy.