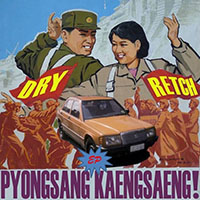 Pyongyang Kaengsaeng! - The Dry Retch (Stalingrad)
The UK owes the world an enduring apology for afflicting it with insipid shit like Robbie Williams, but there are signs of redemption if you look hard. You'll find it seeping out of the cracks in footpaths in big cities outside London, where high-energy outsider bands like The Hip Priests (Nottingham) and Black Bombers (Birmingham) hold the line. From one such dark fissure in Liverpool comes The Dry Retch.
You'll know the back-story if you saw our recent review of their Stooges-obsessed "A Kick in the Gulags" EP. "Pyongyang Kaengsaeng!" (allegedly Korean for "really shitty car" - would Little Rocket Man lie?) is their latest album - and it was launched on the undercard of a 2020 Brian James Q and A in Nottingham, no less. If tender balladry is your thing, look away, now.