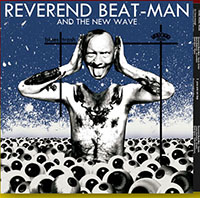 After 30 albums or so under a variety of monikers, Beat-Man could take the easy way out and keep churning out records of garage skronk. You know, music to kill any party, as the label slogan goes. Instead, he's continuing to take chances.
The Swiss madman's brief with this project was simple: Pick a collaborator and play them a song once. Set the tape running. Use the first or second take. No overdubs. No arguments.
The Reverend describes the album as "a mix of blues trash, new wave folk and dark no wave garage punk and rock'n'roll". No arguments. Stylistically speaking, "Blues Trash" IS all over the shop. The bands behind him and his friends range from minimal duos to full-blown folk groups.