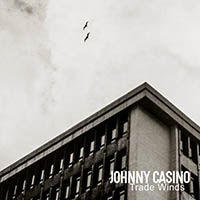 Johnny Casino albums are a treat for the converted and a revelation for those less fortunate. If you're one of the latter, "Trade Winds" is as good a place as any to start.
It's been way too long between records for Johnny - both this album and its predecessor "Time and Time Again" are old recordings woodshedded for later release - but well worth the wait. The big fella from Sydney's Northern Beaches makes Spain his home these days, where he plies his dual trades of tattooing and playing music.
"Trade Winds" was recorded before he emigrated a couple of years ago with a crack band in North Fremantle, Western Australia. Drummer Warren Hall (The Volcanics, Datura 4, The Drones), a longtime Casino sideman, joined with Martyn P Casey (Nick Cave and the Bad Seeds /The Triffids/Grinderman) played bass. That's as fine an engine room as you'll find.