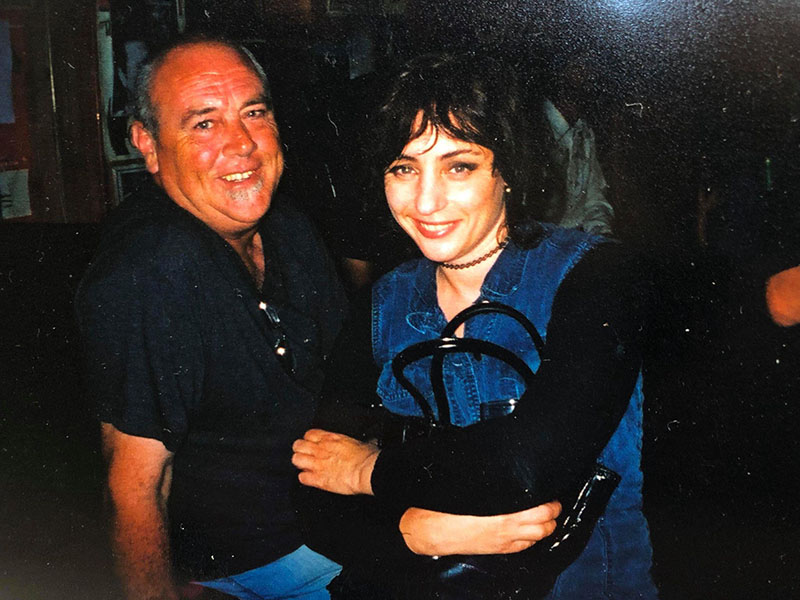 Greg Sawers & Penny Ikinger - photo by Loene Carmen
PENNY IKINGER
Siolo artist and ex-Wet Taxis and Sacred Cowboys member
Melbourne, Victoria, Australia
2020 started with a bang! I was treated to an ear-splitting performance from X at their Bushfire Relief Benefit show at The Spotted Mallard. in Brunswick, Melbourne. It was like travelling through a time warp littered with gritty rock n roll riffs and howls. The ones that X do best. They've still got it!
I was taken on another spin by a stellar line up of Guitar Wolf (Japan), 5,6,7,8's (Japan) and Rocket Science at The Tote and also saw Japanese band The Jetboys at the same venue. Guitar Wolf and The Jetboys, arguably two of the best punk influenced rock bands of this day and age, are brutal. They play loud & fast with utmost conviction. Whatever it was they were singing about I was sure it was sacrilegious. It felt that way and that's what counts.
The Schizophonics (USA) also performed in Melbourne (The Tote again!). This relatively youthful three piece exploded all over the stage and reassured that rock 'n' roll is not dead. Not that I ever thought it was, but that's what 'they" keep telling me…
He's played with Penny Ikinger and Deniz Tek. Now, after a sold-out solo tour in 2018, one of Japan's most exciting guitarists, Masami Kawaguchi, returns to Australia for a tri-state and regional tour with his band, New Rock Syndicate.
New Rock Syndicate plays Sydney for the first time on Friday, July 5 at Marrickville Bowling Club, presented by Kasumen Records and the I-94 Bar.
The band will be performing material from the most recent New Rock Syndicate album "Now" ( as well as tracks from limited edition seven-inchers and the extensive NRS back catalogue.
Supports in Sydney are The Holy Soul and Joeys Coop (featuring Died Pretty's Brett Myers).
Masami Kawaguchi presents New Rock Syndicate in Australia with a rhythm section made up of Dave Gray (Rocket Science and The Electric Guitars) and Don Drum (Paul Kidney Experience and Fraudband),
Masami has been a member of some of the greatest Japanese psych bands of the last two decades - Miminokoto (with Acid Mothers Temple Official), Los Doroncos (with Doronco of Les Rallizes Dénudés), Aihiyo (with Keiji Haino), LSD March/LSD Pond feat Bardo Pond.
Most tickets are on sale here.

Ballarat – The Eastern - Friday June 28
Adelaide – Crown & Anchor – Saturday June 29
Warnambool – Dart & Martin - Sunday June 30
Canberra – Transit Bar - Thursday July 4
Sydney – Marrickville Bowlo - Friday July 5
Newcastle – Lass O'Gowrie - Saturday July 6
Port Kembla – the Servo - Sunday July 7
Melbourne – The Tote - Friday July 12
Castlemaine – The Taproom - Saturday July 13