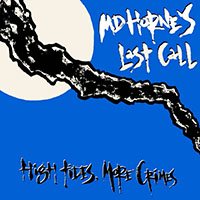 High Tides, More Crimes – MD Horne (Outtspace/FOLC/La Villa Nova)
Only a shit stirrer would start a review of an album with the rhetorical question: "How do you know you're getting old? You start listening to bush bands". Guilty as charged – on the shit stirrer charge, that is. Lock me up.
Yes, the second solo album from Sydney's MD Hornecontains mandolin, didgeridoo, his own bass, a sprinkling of bush balladry, and even a sea shanty of sorts but, thankfully, no lagerphone. It's also damned good.