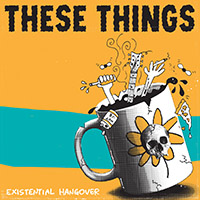 Existential Hangover - These Things (Dirtyflair Record Company)
Three albums in and These Things just made their own patch of swamp in Australia just a little deeper.
These Things have nailed it with "Existential Hangover". Crawling king snake fuzz intersects with patches of clean guitar against a no-nonsense backbeat. If Mudhoney crept out of a recycling depot in a rural Victorian town and went on an absinthe bender with Reverend Beat-Man, they'd sound like this.