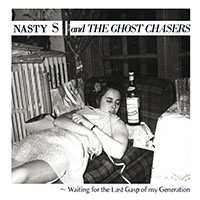 Waiting For The Last Gasp Of My Generation – Nasty S and The Ghost Chasers (Twenty Something Records)
French journeyman Nasty Samyhas been on the European underground touring circuit as long as anyone can remember, playing with the likes of Second Rate, Hawaii Samurai, The Black Zombie Procession, Demon Vendetta, Cab Drivers Stories, Teenage Renegadeand a bunch of other bands you've possibly never heard of.
He's a lifer.
He's also a magazine writer of some repute.
"Waiting For the Last Gasp…" is a cover album, with Nasty S playing most of the stringed instruments on a selection of '80s and '90s punkish and powerpop songs that he digs, and with a rotating cast of guest vocalists.