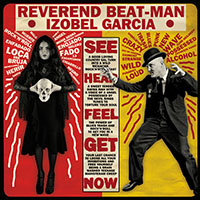 Izobel Garcia's collaboration with Reverend Beat-Man was one of the best things on the latter's most recent album, "Blues Trash", so a full-length long-player from the pair was always going to be a tasty prospect. Those high hopes have been met.
"Baile Bruja Muerto" (translation: "Dance Witch Death") evokes colours of a dark hue; West Coast Mex cool meets decadent garage trash. Gospel, swamp and skronk meet in a parking lot to imbibe god knows what.
Ms Garcia is an L.A. artist of Mexican descent with a stunning voice. Beat-Man is a frequent visitor to the City of Lights as he has relatives in the area. The pair met at a downtown rock and roll gig. Beat-Man picked Izobel for a musician because she looked odd. It takes one to know one.