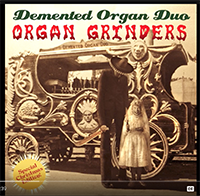 One of the greatest things punk gave the world was that you, too, can make your own music and, if only in your bedroom, be a genius rock star.
Adelaide's Chris Spud (aka Demented Organ Duo), the stay-at-home musician (except when playing in a horrible local punk rock band), has the most satisfactory musical and literary taste. There are four songs here; all recorded, cut and edited laboriously in Spud's luxuriously cramped studio.
"Organ Grinders" is a brilliant, sarky, creepy, savagely knowing piece of theatre. If you dug, for example, Tom Waits' circus/fairground-type music, you'll dig this - and so would Tom.