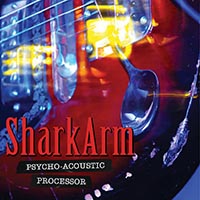 Psycho-Acoustic Processor – Shark Arm (self released)
Don't argue, just get it, and make sure you catch them live.
The Iowa brothers make enough bloody racket for eight men. Even though you'd swear they were a four-piece on first listen. Bass, drums, vocals, guitar.
Three of these are played by Nathan Iowa, while Damian pounds the hapless skins. Their songs are a rumbling chaos shot through with ordered lightning and purple viscera.