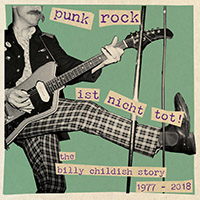 How do you sum up the musical career of Billy Childish, England's finest, over two CDs or six sides of vinyl? "Punk Rock Ist Nicht Tot" (translation: Punk rock is not dead) pulls it off pretty well.
The Childish oeuvre isn't for everyone. Across various groups - the Pop Rivets, Thee Milkshakes, Thee Headcoats, Thee Mighty Caesars, Musicians Of The British Empire, The Buff Medways and CTMF among them - Billy has been the poster child for low-fi, crudely-recorded, minimalist rock and roll.
Whip smart lyrics, sometimes confessional and often sardonic or profane, delivered in the voice of a street hooligan and set against distortion and dissonance. As a guitarist, Billy is no Steve Vai and for that we can all be eternally fucking grateful.