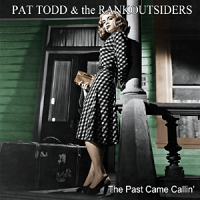 Americana is a term that excuses all sorts of sins. It's so sweeping as to be meaningless - and it's been homogenised to the point of dross - so let's not speak of it again.
Some folks call Pat Todd "Americana" and it doesn't remotely cover what he and his Los Angeles-based Rankoutsiders play. They've been tagged "Mellencamp with the Les Paul turned right up" by one reviewer, which is a bona fide compliment if you ignore the stuff that charted in Australia…
So, the fifth Rankoutsiders album, "The Past Came Callin'", is rootsy and muscular rock and roll, an amalgam of rock, country, blues and everything in-between, and a contender for their best yet.
What makes the 14 tracks on "The Past Came Callin'" stand out? The songwriting, for one. Pat Todd doesn't do mawkish sentimentality and writes from the heart. These are a mix of old and new songs, stories about relationships and crimes - which we all know are sometimes one and the same thing.
The surging, urgent guitars of Nick Alexander and Kevin Keller are another distinctive plus. Like Thunders with a clear head or Keef with a new-found dose of inspiration and less noodling, these guys make you take notice of every lick and steamrolling riff.