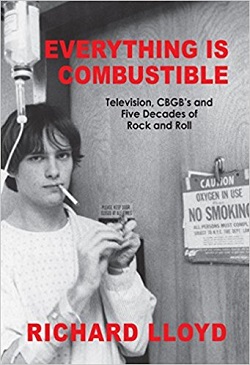 Orthodoxy is not the Richard Lloyd way, so this book was never going to be a straight-forward elucidation of the histories of his bands ("Just the facts".) It's a weirdly charged ride through the man's life, using vivid snapshots and taking colourful detours, and it reverberates like his guitar playing.
Lloyd was the rocking yin to Tom Verlaine's ethereal yang in seminal New York band Television. You could say he kept his guitar partner from lapsing into total six-stringed self-indulgence and flights of fancy, giving the band its rock and roll sensibility.
It's an important point but his book is about much more than that. Lloyd is also a solo artist of note who has passed through the orbits of people like Jimi Hendrix, Anita Pallenberg, John Lee Hooker, Keith Moon, Buddy Guy and Keith Richards, to name a few.
What you need to know is that Lloyd has been in and out of mental asylums and rehab, used every drug known to Western civilisation (and probably a few that aren't) and the scope and variety of his sex life would give the late Lou Reed cause for pause. He also has a unique philosophy on human existence.
Lloyd has always felt like an intruder in everybody else's world, a fully-formed adult even as a child. He lived with bipolar disorder sitting on his shoulder, pulling him up and down. You get the feeling that his (at times impenetrable) brand of spirituality was either a product of that or his anchor, and it runs thematically right through his writing.