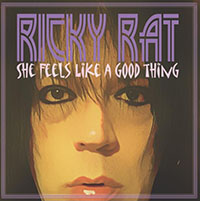 She Feels Like a Good Thing – Ricky Rat (I-94 Recordings)
Some of you might know Ricky Rat from his many various recorded collaborations and world tours with such rocknroll all-stars as Texas Terri, Kevin K, Bootsey X & The Lovemasters, or even the post-Stiv Dead Boys, but to many of us midwestern punk rockers, he'll always be fondly revered for his trailblazing Detroit glam gang, Trash Brats, who really helped to co-author the '80s punk-roll underground scene.
Trash Brats shows were special events when all the diverse rock 'n' roll tribes came outta the closet to rub shoulders and get wasted to their joyful, exuberant, power pop mayhem and merriment. All the spiky haired rocker kids knew the words back then. They filled that room with bedlam and we all sang along.