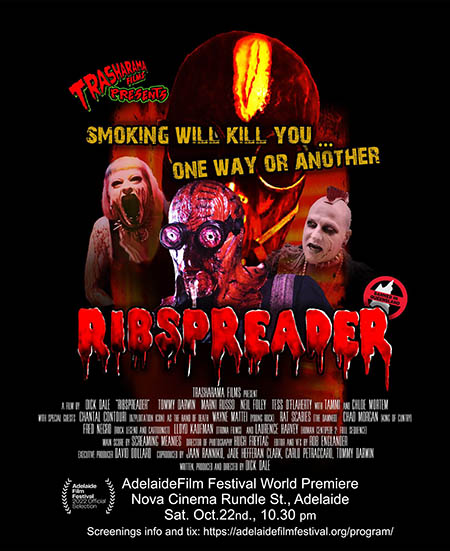 Ribspreader
Written, directed and produced by Dick Dale
Starring Tommy Darwin
Adelaide Nova Cinemas
Saturday, October 22, 2022
Would you go to see a slash 'n' splatter flick made in 'Straya's Murder Capital of Adelaide with guest appearances by Chad Morgan, Chantal Contouri, Fred Negro, Spencer P. Jones, and Rat Scabies?
Do bears shit on the Pope?
Do excuse me, it's the morning after the night before and I'm mangling my metaphors. Anyway, last night I went to see one of the films at the Adelaide Film Festival. The world premiere of "Ribspreader".
About a week-and-a-half prior, I'd tried booking online; after selecting two tickets, I was asked my email... and then, nothing happened. Maybe it didn't work. I tried again, found that their system now had me down for four tickets, asked me for my email and again, nothing happened. No email. After the second day of no email from the AFF I figured, I'll have to use "other sources".