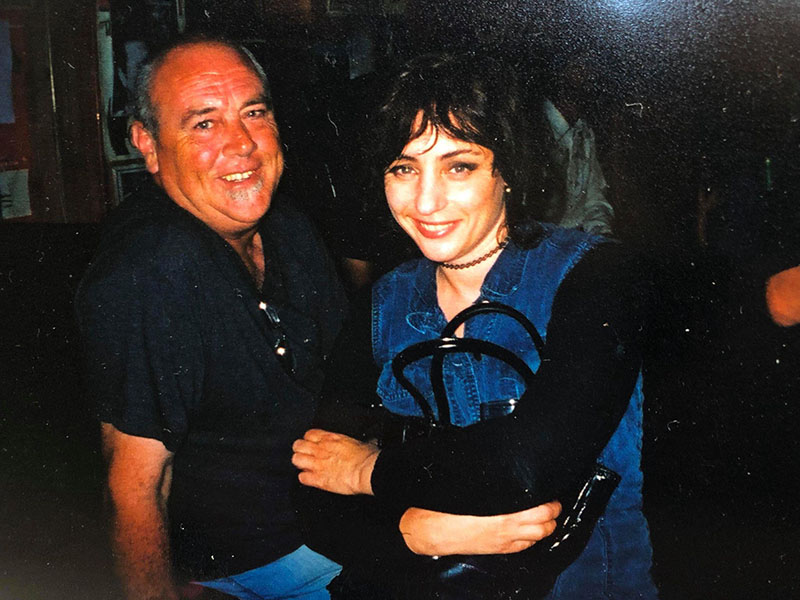 Greg Sawers & Penny Ikinger - photo by Loene Carmen
PENNY IKINGER
Siolo artist and ex-Wet Taxis and Sacred Cowboys member
Melbourne, Victoria, Australia
2020 started with a bang! I was treated to an ear-splitting performance from X at their Bushfire Relief Benefit show at The Spotted Mallard. in Brunswick, Melbourne. It was like travelling through a time warp littered with gritty rock n roll riffs and howls. The ones that X do best. They've still got it!
I was taken on another spin by a stellar line up of Guitar Wolf (Japan), 5,6,7,8's (Japan) and Rocket Science at The Tote and also saw Japanese band The Jetboys at the same venue. Guitar Wolf and The Jetboys, arguably two of the best punk influenced rock bands of this day and age, are brutal. They play loud & fast with utmost conviction. Whatever it was they were singing about I was sure it was sacrilegious. It felt that way and that's what counts.
The Schizophonics (USA) also performed in Melbourne (The Tote again!). This relatively youthful three piece exploded all over the stage and reassured that rock 'n' roll is not dead. Not that I ever thought it was, but that's what 'they" keep telling me…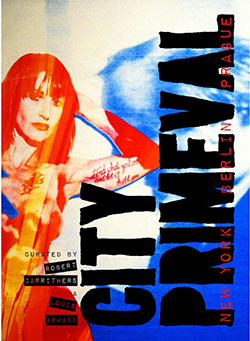 You may, or may not, see this book in shops. If you do, buy it. Most of the readers here will want to read the New York section. So don't hesitate.
But I'm s'posed to be a critic or something and The Barman wants to know: how many McGarretts? In spite of the several things which annoy the hell out of me, "City Primeval" rates a mighty Three McGarretts. Yep: 100 percent..
Why so high, Grand-dad?
Well, the concept alone is mighty. And it could've been seriously terrible. But "City Primeval" is one of those unique, slanted historiography things which are invaluable to any music/ culture enthusiast. Sure, the book could've done with a decent editor, and sure some of the people writing here don't usually write so it's not the smoothest.
But that's not the point, at all, and in fact is part of the charm. Reading "City Primeval" doesn't just give us a bit more context, but part of the "ah-HA!" understanding which so many outsiders to any florid scene lack.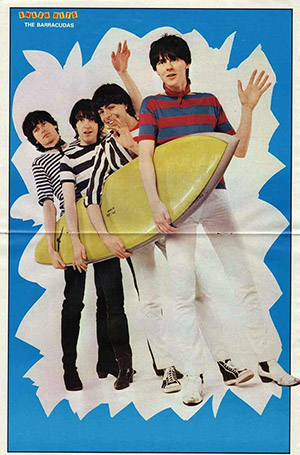 The more art I make, the more persuaded I become that there is no other art than mine, and no other artist than I. - Jeremy S Gluck
Currently Artist-in-Residence at Eltham Hill School (Greenwich, London), ex-Barrcudas member Jeremy S. Gluck is piloting a pioneering new digital art project, "Game of Memes". The first exhibition opens in London on Saturday November 11. The Barman owes me a huge backlog of wages so I'll be there too.
Now cast your eye over this pin-up, a centrefold from "Smash Hits" (one of those dubious teenage mags which proliferated in the late 1970s and early '80s). Observe the mop-top hair, the sharp shirts with snappy lines and the aw-shucks expressions. Not to mention that banana-coloured surfboard.
Not quite as dangerous as the gang in The Archies. Never mind the Barracudas being squeaky enough to take them home to meet Mum, you could take these boys to meet Granny.
She'd chuck them under the chin, pinch their cheeks and call them "lovely" before making them all nice cups of tea (from a teapot in a home-made tea-cosy) with a digestive biscuit.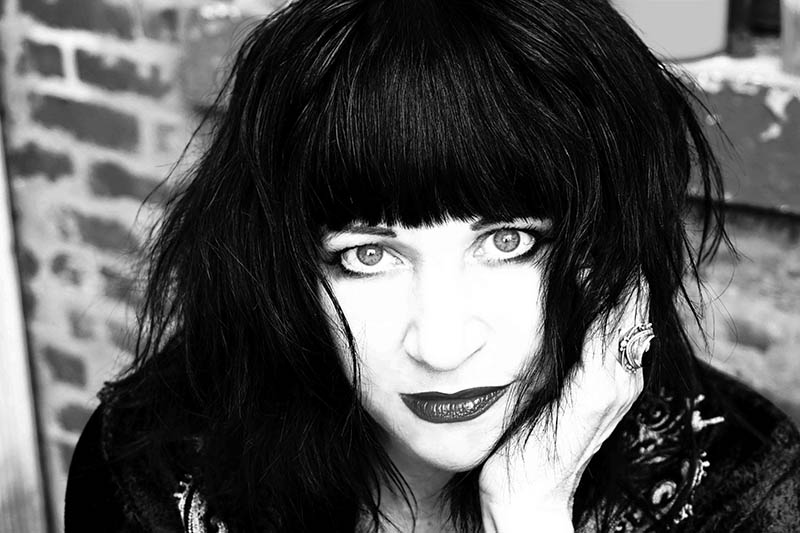 Jasmine Hirst photo.
Lydia Lunch doesn't particularly care whether people are offended by her art.
From her beginnings in New York no wave outfit, Teenage Jesus and the Jerks, to her spoken-word performances, to her collaborations with Rowland S Howard in Shotgun Wedding, Swans' Michael Gira, Sonic Youth's Kim Gordon and Thurston Moore, Bob Quine (Richard and the Hell and the Voidoids), right through to her more recent profane expositions on the United States under Donald Trump, Lunch's self-defined brief has been deliberately and avowedly confrontationalist.
In her own words, Lunch is a conceptualist, exploring concepts that highlight the exploitation and marginalisation of the individual in contemporary society, the typically patriarchal and oppressive discourse wielded by institutions of power.
If you can't stand the heat in Lunch's artistic kitchen, go find yourself a fast-food media joint and starve on the processed, intellectually bankrupt crud that masquerades as entertainment.
In May 2018 Lunch returns to Australia with her Retrovirus concept, trawling across her 40-year career with the aid of Bob Bert (Sonic Youth, Chrome Cranks), Weasel Walter (The Flying Luttenbachers) and Algis Kizys (Swans). I spoke to Lydia Lunch in her sometime home town of New York City.