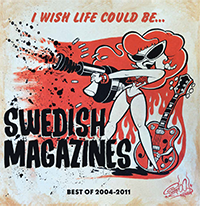 I Wish Life Could Be… - Swedish Magazines (Rubber Records)
Underground rock on Australia's East Coast really needed a well-organised interstate exchange program in the 2000s.
Despite a smoothed-out Hume Highway between Melbourne and Sydney making long-haul road-trips safer and a flood of cheap airfares, the flow of bands between the two big smokes slowed, largely in part to Sydney's declining number of live music venues.
After all, bands can't do reciprocal deals to play in each other's cities if one hometown has 20 venues and the other has four. If the balance had been more equitable and audiences less fragmented, it's a fair bet that Melbourne's Swedish Magazines would have household names across the nation in the mid-00s and not juist in Melbourne.