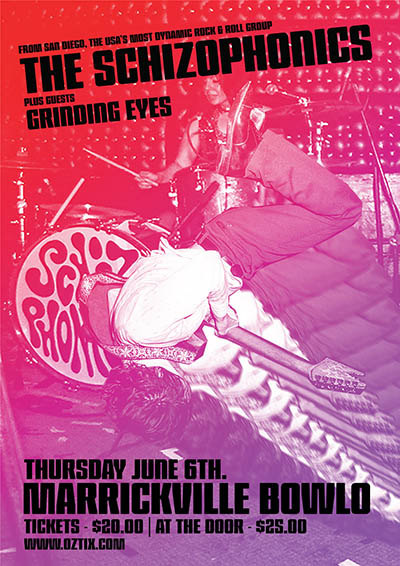 Sensational San Diego trio The Schizophonics have announced two Australian dates in June.
They'll play Sydney's Marrickville Bowling Club on Thursday, June 6 (with Grinding Eyes) and Melbourne's The Tote on Friday, June 7 after a run of New Zealand dates. Tickets for both Austrralian shows are on sale here.

The wild, gyrating, and down-right gymnastic, guitarist Pat Beers is joined by his wife Lety on drums and bass player Blake Lindquist...and yes, Beers is their real name. By day Pat teaches music but at night, once strapping on that guitar, he becomes a man possessed .
The Schizophonics are, in one word, EXPLOSIVE. Their frenzied live performances tap into the same unstoppable combination of rock 'n' roll energy and showmanship that fueled the MC5 in the heyday of the Grande Ballroom.
When they hit the stage, they grab your attention and don't let go. They've built up a formidable reputation in their home base of San Diego and a fervent following among locals.
"One of my favorite live bands ever!" proclaims Tim Mays, who has run the Casbah for over 25 years and seen literally thousands of live bands come through his doors in that time.