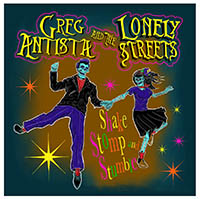 Statement of the obvious: Three-minute pop punk songs (mostly) don't get old. "Shake, Stomp & Stumble" - the debut album for Californian Greg Antista and his Lonely Streets - is littered with them.
This is a record of its SoCal birthplace. Orange County local Antista grew up in the 1980s with most members of The Adolescents, Agent Orange, Social Distortion and Middle Class as his buddies. He recorded and toured two albums with the band Joyride with Steve Soto (The Adolescents) in the early '90s.
"Shake, Stomp & Stumble" wears all those influences on its sleeve. It's a little punk, a lot pop and all of it smeared with large dollops of country and Americana. Antista has an emotive vocal with a touch of melancholy to it - when needed. Not a bad attribute if you're dipping your toe into country waters. Johnny Cash was a punk rocker, you know.