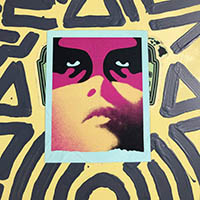 Space Travels - Sonic Garage (self-released)
Welt – I Am Duckeye (self-released)
Sydney's Sonic Garage have produced a fine rock'n'roll album. Victoria's I Am Duckeye have produced a brutal, beautiful fucking monster. The fiorst bvand is from Sydney, the latter from Melbourne.
There are similarities to both records - Sonic Garage dedicate their album to Luke Lovelock. Duckeye dedicate theirs to one, Matt Browne. And both have striking covers; Sonic Garage show us Saxon Wyatt's bonnet art (it's got that 1970s and Eric Von Daniken vibe which all Hyundai cars should have), while Duckeye found a roadkilled bird which had then been half-painted over by a careless road-line marker.
Their back cover is very boganista - a bunch of beery customers you can barely see as most of a very smashed guitar goes sailing over someone's adjoining breezer block wall.