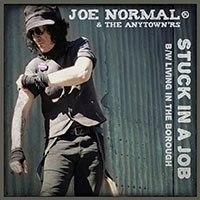 Stuck in a Job b/w Living In The Borough – Joe Normal & The Anytown'rs (Big Stir Records)
I'm always late to the party, and in the wrong place, at the wrong time, so ya know it was no big surprise, by that year when I finally made it to Hollywood, seeking out competent shag-haired glam punks for my own set to self-destruct before our 15-minute flash metal suicide glitter gang. It was really all over but the pouting, and I hadda get a series of telemarketing and janitorial gigs, sweeping up the silly string and confetti of last year's hairbands!
All the bombshell temptress girlfriends with the come hither, tilted just so police hats, and over blackened hootchie kootchie eyes, had already moved on to gangsta rap or grunge, which was a total buzzkill that I never related to at all, 'just proved the power of corporate media to strongarm any fictitious, manufactured trend or phony narrative upon the masses by overplaying it all day, they did the exact same thing with even more awful boybands two years later, so anyways, in the Hollywood limelite's last gleamings, the purple haired Zeros were like the biggest buzz in town, seemingly poised to make it, at least, as far as Faster Pussycat or L.A. Guns or whoever. They had lines around the block of devoted fans who all formed kooky colored glam groups and copied them slavishly.