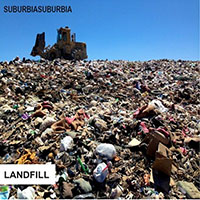 Landfill – Suburbia Suburbia (self released)
Suburbia Suburbia's new album, "Landfill", is anything but rubbish. It is bloody awesome, It is full of screaming guitars, loads of wonderful harmonica and rolling bass lines and pounding drums. It's just bloody good.
Suburbia Suburbia is Tony Townsend on vocals, Robdog Dekker (guitar), Allan 'Krock' Lyon (harmonica), Robbie Jib(bass), Rowie Riot(lead guitar) and Noel Gardner (drums.) They also have Ian Taylor (rhythm guitar) and Mark Godfrey (bass) on a couple of tracks.
These seasoned musicians have come up with eight tunes that just rock - a combination of blues and good old pub rock and roll. I cannot recommend this highly enough because it's pure gold.