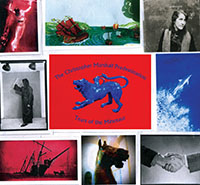 Tears of the Minotaur - The Christopher Marshall Predestination (self released)
I guess the starting point here will be 1980s noisy blues outfit Harem Scarem, formed by Charlieand Christopher Marshall. Until they found Chris Wilson, Christopher was lead vocalist. And I do wish for a few live tapes of that line-up.
And, curious how things turn out.
Like his fellow bandmate the late Chris Wilson, Marshall's voice is quite extraordinary, and you can pretty much pick your own favourite blues vocalist to compare him to.