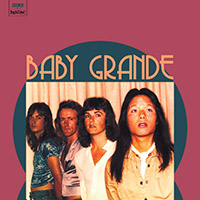 Baby Grande 1975-77 - Baby Grande (Hozac Archival)
The Brits call it Junk Shop Glam and the name's derived from the piles of often obscure, sometimes quirky and lost '70s glam singles that littered their second-hand shops decades ago and now fetch crazy, collector scum prices. RPM/Cherry Red did a stellar job of bringing much of it to life on their "All The Young Droogs" compilation.
It's as good a label as any for Baby Grande, the band in which future founders of The Church, Steve Kilbey and Peter Koppes, cut their teeth in the mid'-70s. Chicago label Hozac Archival has exhumed a tape of studio sessions from somebody's sock drawer and issued it as an LP.