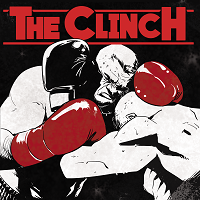 Basecamp - The Clinch (OSU!/Sunny Bastards)
Hello Barflies. The Dimboola Farmhouse has been rocking to the new album from Melbourne punk rockers, The Clinch, of late.
The Clinch is the band, "Basecamp" is the new album, and does it smash you right in the face, make your ears bleed and keep you wanting more.
The Clinch are five hardcore punks with a sound that pay homage to the old East End of London. In terms of sound if not geography, both Rancid and The Exploited come to mind. Luke Mathews and Andy lynch attack their guitars with some of the hardest playing my ears have heard in years. Sam Barker (drums) and Brendan McRea (bass) smash the shit out their instruments with gutso. What a band to have behind you.
Steve Bunch sounds like the perfect frontman for this music. His singing (if that's the correct word) is like an ounce of weed going through a coffee grinder with gravel in place of tobacco. it's a punk rock voice that takes no prisoners and I, for one, love it.