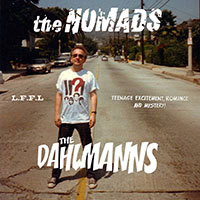 That's a helluva title. It's also a limited edition split single featuring Sweden's Nomads and Norwegian power pop wonders The Dahlmanns, put together for the 60th birthday party in Spain of Next Big Thing zine creator and all-round top bloke, Scotsman Lindsay Hutton.
Just 500 were pressed up for the shindig in Madrid and only a handful remain available...
If you don't know, The Dahlmanns are the World's Best Power Pop Band. No arguments, thank you very much. "Fireball" is the theme song of a Gerry and Sylvia Anderson pre-Thunderbirds TV show ("Fireball XL5") and it was the first 45 that a pre-pubescent Lindsay ever bought in the early 1960s.