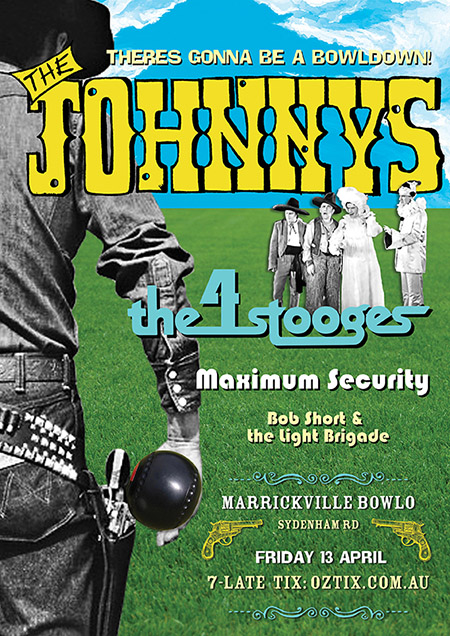 After seven years, thousands of kilometres and innumerable demolished backstage riders, The Johnnys were Australia's indisputable, rough riding champions of cowpunk.
Fresh from two gigs in New Zealand, The Johnnys – Graham Hood (bass and vocals), Slim Doherty (guitar) and Billy Pommer (drums) - will play their first Australian show in two years, headlining Marrickville Bowling Club on Friday, April 13.
They'll be joined by The Four Stooges (Australia's only Stooges homage band), Maximum Security (launching their debut album) and Bob Short & The Light Brigade.
The Johnnys formed in Sydney in 1982 when bass guitarist Graham Hood tried out for the Hoodoo Gurus after quitting the Allniters. He met Hoodoo Gurus' guitarist Roddy Ray'da and, with drummer Billy Pommer, they formed The Johnnys, playing their first show at Palms Disco on Oxford Street in Sydney.
New Zealand-born Spencer P. Jones joined on guitar and the four-piece released their single "I Think You're Cute" in October on Regular Records. Ray'da left and the band signed with independent label Green Records before joining major imprint Mushroom.