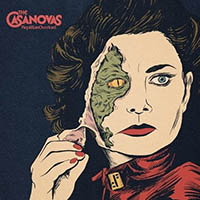 Reptilian Overlord - The Casanovas (Rubber Records)
Melbourne's hard-rocking Casanovas have released their fourth album, "Reptilian Overlord", and it does not disappoint. It just rocks from start to finish.
I must admit I've seen The Casanovas many times over the years with varying line-ups. The constant, however, is the guitar and vocals of the man who was always destined to be a rock star: Tommy Boyce. Honestly, see this man play live and tell me I'm wrong.