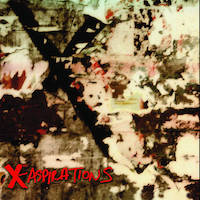 X-Aspirations - X (SL Express)
The (mild) hype accompanying the 40th anniversary edition was deserved and - and then some. This is as essential an Australian "punk" album as the Radio Birdman and Saints debuts - even if comparatively few people noticed at the time.
The reputation of "X-Aspirations" as the ultimate in primal, spontaneous and minimally brutal music fron this part of the world (Australia) has grown with every re-issue, and this re-mastered vinyl version is surely the last word.
Sydney-reared and as street-level as a band could be, X had all but been destroyed by reputation and reality by the time they went into Trafalgar Studios in 1979. Venue owners despised them and the crowd they attracted. Gigs inevitably ended with a full house, physical damage, spilled blood and a warning for the band not to come back.