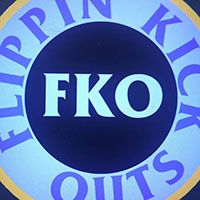 Flippin' Kick Outs – Flippin' Kick Outs (self released)
Down a band member but with songs to play, Sydney's Flipped Out Kicks became the Flippin' Kick Outs in 2019 and broadened their musical palette.
Which is to say they still played garage punk but they markedly blurred the stylistic edges, tossing in some rockabilly and hard rock for good measure. This digital album is the fruit of their recent recording labours since COVID and it's a pretty spiffin' dose of the sort of street-level rock and roll that used to be par for the course in their hometown.