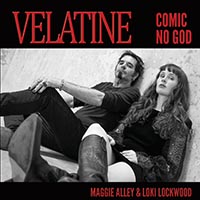 Comic b/w No God - Velatine (Spooky Records)
You need this gritty, honey-dipped red platter of imminent death and vaulting beauty on your turntable now.
And when I say "now", you need to get your skates on. 150 were pressed, and Spooky has less than half left. This single is pure, powerful Euro-class with tinges of Dead Can Dance, Laibachand Depeche Mode...but with the kind of darkly angelic singer that spotty teenage boys top themselves over.
Have you heard Velatine's first few long-player releases yet? "Store Atmospherics" and "The Trap" (both on Spooky in 2020). Mean, moody and magnificent. Remember that soundtrack to "Twin Peaks"? Well, imagine a similar series set in the Alphabet City, the midnight Gotham of our souls - Velatine slide right in. You can even wear your leather biker jacket. These songs were the result of, as the media release says: "Loki Lockwood delving deep into the world of electronica in an unconventional way, combining a love of cinematic, industrial and pop".