2020 Barfly Top Ten: Ashley Thomson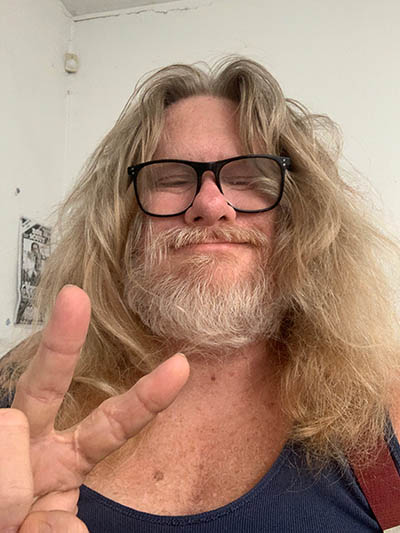 ASHLEY THOMSON
Ex-Kelpies, Rollcage, Brother Brick, Panadolls
Sydney, Australia
Top Ten Gigs I wish I was at drunk
Beatles - @ the Kaiserkeller - Hamburg, Germany. October 1960.
From the era when the Beatles played four sets a night, 50 days straight, making themselves an extremely tight rock n roll machine. Heineken ja ja!
The Doors - @ Whiskey a Go Go - Los Angeles, USA. August 1966
Mostly I just want to hear a fat version of "The End". I'd probably drop a trip as well. JD.
Coloured Balls/Lobby Lloyd - @ Sebastians, Melbourne. Saturday April 15, 1972
I'd make sure I was fucking hammered and slammed my head into the PA when they did their "torture rock porn" version of Heartbreak Hotel, suck more piss indeed. Just beer.
Robert Johnson @ anywhere around the Mississippi Delta, USA. 1935
"Hellhound on my Trail" is one of the most beautiful songs I've ever heard. Moonshine.
The Byrds @ Whiskey a Go Go - Los Angeles, USA. 1966
So influential, changed everything, still listening to them. A trip as well? Not sure. Watermelon wine.
Dionne Warwick @ Paris Olympia, France. 1966
Still one of the best singing voices I've ever heard. Preferably with Burt Bacharach playing piano. Absinthe, of course.
Frank Sinatra @ The Sands - Las Vegas, USA. 1966
Count Basie and Quincey Jones running the band. Entertainment for Mafia stooges and working people on a night out. Old Blue Eyes' last stand. Assorted shots.
Sex Pistols - @ Longhorn Ballroom, Dallas, Texas, USA. January 10t, 1978
Well, I know it's obvious, they had to get a look-in somewhere.They sure did fire up a 15-year-old me. Pharmaceutical grade amphetamine.
Velvet Underground @ The Dom, New York City. April, 1966
With Nico. I'd start a band the next day same as everyone who saw them. Heroin, preferably pink rocks or Turkish mud, hopefully I wouldn't nod off for the entire show.
Jackie Brenson & his Delta Cats (Ike Turner) @ Memphis, Tennessee, USA. Anytime, anywhere. 1951
Some scholars and academics believe "Rocket 88" is the first rock 'n' roll song. I'd like to see for myself. Not sure what a suitable drink would be. Maybe Coca Cola as I'd need a night off from all the drunken time travelling.
Tags: top ten, sydney, brother brick, panadolls, kelpies, ashley thomson, rollcage