2020 Barfly Top Ten: Derrick Ogrodny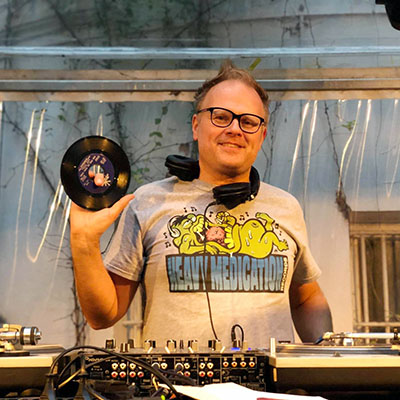 DERRICK OGRODNY
Heavy Medication Records honcho
Warsaw, Poland

To be honest, 2020 wasn't too big of a train wreck for me. I generally work remotely, so there was no adjustment to the joys and pitfalls of working from home. Even though live concerts were few and far between, I still managed to catch a few great ones before the gates closed. (Poison Heart's Ten-Year Anniversary gig and an aurally hallucinogenic set by Brazil's Rakta come to mind.)
Alas, some long-anticipated plans got scrapped (some well-paying DJ gigs, a Heavy Medication Label Fest with Puffball and Hell Nation Army in Berlin, travelling somewhere to catch Pat Todd & the Rankoutsiders on their European tour), but new plans rose out of the ashes of the fallen ones to make the best out of a bad situation. But more on that later…
Here are some things I dug in 2020:
1.) Smalltown Tigers "Five Things" mini-album (Area Pirata Records)
Loud guitars, catchy tunes and simplicity have always worked in punk rock's favor, and these three Italian chicas (sorry, regazze) follow this recipe while mixing in their own sonic special sauce through the eight songs on this tasty debut platter. The Ramones and Runaways are obvious reference points (especially Valli's gritty Joan Jett growl), but these Tigers manage to sound both ferocious and sweet at the same time. The no-frills execution and earworm-quality of the songs kept me playing this mini-LP on endless repeat. Listen up here.
2.) "Doojiman & The Exploders II: Electric Boogaloo" LP (Beluga Records)
In a year when many bands postponed releasing new albums, Stockholm's D&TE saw two 12"-ers of theirs see the light of day: "Electric Boogaloo", an album of all-new material which came out in January, and "Watch Out! Look Out!", a vinyl collection of the band's first digital-only e.p. from 2014 with four bonus tracks which was released in May by yours truly. (You can read The Barman's review of the latter here.
While the band sounds like a garagier Turbonegro on "Watch Out! Look Out!", "Electric Boogaloo" shows off a more melodic, power-poppy side to the band, with 10 songs that'll latch onto your brain like gum on a shoe plus a cool Peaches cover. My favorite track on the album is "29", a wistful ditty with a beautiful melody about scoring drugs, sort of a pop-psychedelic "I'm Waiting for My Man" which feels just as much at home in 2020 as it would have in 1968. Keep your feelers out for these fellas, because I think you're going to hear some really amazing work from them in the coming years. Bandcamp.
3.) The Hip Priests "Solid Gold Easy Option: Singles 'N' Shit 2017-19" (Speedowax Records)
Fans of high-energy rock & roll need no introduction to Nottingham's Hip Priests, but tracking down their myriad releases on just as many record labels can be laborious. When it comes to seven-inch releases, The Priests have got more singles than Tinder and have done more splits than a Russian gymnast. Most of these are out-of-print and pricey, which makes this raging comp a hellbent blessing and a helluva bargain.
Compiling 17 of these tracks (16 on the vinyl) onto one convenient platter, "Solid Gold Easy Option" highlights just how unfuckwithable this band is. It's a barrage of power chords, punk aggro and misanthropy served at maximum amplitude, which spills out of your speakers like a busted sewer pipe. Self-destruction never sounded so good. Grab it here.
4.) Moron's Morons "Looking for Danger" (Slovenly Recordings)
These Warsaw trash-punks' debut long-player should have come out in 2019, but for one reason or another got pushed to the beginning of 2020, only to have its promotional tour get flushed down the 2020 shitter. And so "Looking for Danger", in all its raw, snotty and unpolished glory, never got the attention it deserved which is a damn shame. It's a ferocious gutter-punk marriage of The Damned, Reatards and New Bomb Turks, and it's one of the loudest albums I own, even with the volume turned down. P.S. Of interest to I-94 Bar patrons, the record closes with a burn-the-house-down cover of the Cosmic Psychos' "The Man Who Drank Too Much". Bandcamp here.
4.) The Internet of Rock & Roll
Human beings are extraordinarily adaptive, and 2020 had us all adapting to new situations more than ever. Take buying records, for example. I'm really a physical media type of guy, but with less records being released due to the pandemic (and less coins in my coffers to purchase music), I had to rely heavily on online music more than ever to get my fix. We ll know the Internet has radically changed the way we discover and consume music, and this really hit home for me in 2020, as I spent a lot more time checking out new bands on Bandcamp and Soundcloud. No matter how much I love vinyl and CD's (but not cassettes – those can go to hell), music online is a godsend, and 2020 reminded me of that.
5.) Live Streaming
As a part-time soul/rock 'n' roll DJ with an itch to spin but no clubs to do it in, I dove head-first into the world of live streaming and found a whole new audience for what I do online. I don't know why it hadn't occurred to me to try it out earlier, but suddenly friends and family in other countries were able to see me play live, albeit from the comfortable confines of my home studio. When the realities of living in a pandemic hit hardest during the first weeks of lockdown, my online gigs became a virtual party-room where friends in different time-zones could congregate, share laughs, listen to some dusty 45's, have a few drinks and feel relatively 'normal' again, all without leaving home. There is something incredibly alluring about going live on social media, seeing people from all over the world tune in, and being able to interact with them in real-time.
I think there's lots more potential to be explored with live music via streaming. We probably all tuned in to a few bands playing live in their bedrooms, rehearsal rooms and empty concert venues, and I especially love the idea of live video podcasts, such as "Monday Evening Gunk" out of the Moshpit Bar in Sydney. One novel idea I tested out for my label Heavy Med was having an online listening party for an upcoming release.
Rather than just announce the news that I'd received test pressings for a new 7" from Warsaw's Poison Heart, I decided to give the public a first listen to the test pressing live on Heavy Medication's fanpage, which turned out to be a really fun mini-event and a unique way to announce the imminent new release. Not only do live broadcasts get far better reach than average posts on social media, but they also give you the ability to respond and react immediately to questions and comments from the viewing public. Many DJ's have amassed quite large international followings via streams, and I think this is a great tool that needs to be utilized more by bands and record labels.
6.) Putting together a tribute album
With the lack of live concerts to promote new albums, 2020 became a good year for record labels to release compilations, tribute projects and reissues of older stuff. After my sole release of the year was sabotaged by a cancelled tour, I decided to play it safe and start work a year early on a dream project of mine, titled "Defiled! A Heavy Medication Tribute to New Bomb Turks".
Why did I choose this project to work on for most of 2020? Simply put, Covid-19 couldn't fuck with it! With so many fans of the Turks and the contributing bands out there, the project wouldn't require artists to hit the road in order to promote it, and I wouldn't have to worry about being stuck with boxes of unsold records and CD's. It was pure joy to work with bands I like from all over the world, including a few of the bands I mentioned in this list as well as Aussie reprobates Aberration and Howlin' Threads. "Defiled!" was my favorite and most-played album of 2020, and hopefully it'll be yours too in 2021. Info here.
I wish all I-94 Bar readers the best in 2021, and remember to keep supporting independent music, especially in these challenging times!
Tags: top ten, pat todd, hip priests, poison heart, derrick ogrodny, smalltown tigers, doojiman , exploders