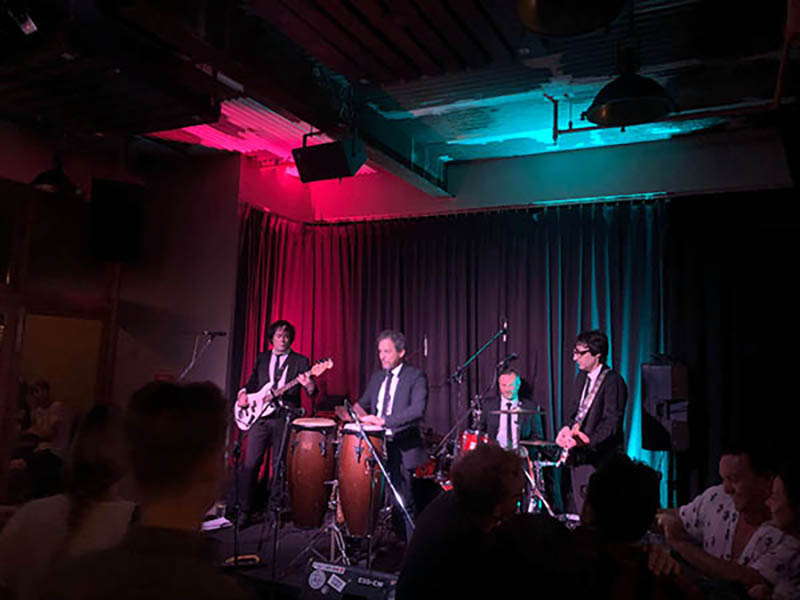 Los Monaros at The Townie in Newtown.
1. Los Monaros, Garry David, Joseph Leonard & Dog Wonder - Janary 10 at The Townie, Sydney
Must say I have never been a huge fan of surf music but Los Monaros are the best exponents that I have seen yet. They hit the groove with some rousing melodies that managed to even get The Townie audience (packed post midnight)on their feet. Also, a shout out to Joseph Leonard and his band - they're part of the fantastic China Pig label and are yet another understated Sydney act.
2. Duo Log, Dweeb City, Garry David, Space Boys - January 11 at La La La's, Wollongong
There is no hype or questionable promo when many know Wollongong isn't a boring place for bands. A party of four fresh acts gunned together for the launch of Duo Log's fifth album. If you havent seen Duo Log you need to treat yourself. They write eclectic pop songs that make the mundane funny - like living in the Gong. mowing the lawn, or throwing up on a lunch date. Dweeb City are some fun femmes who put on a show whilst Space Boys need no introduction.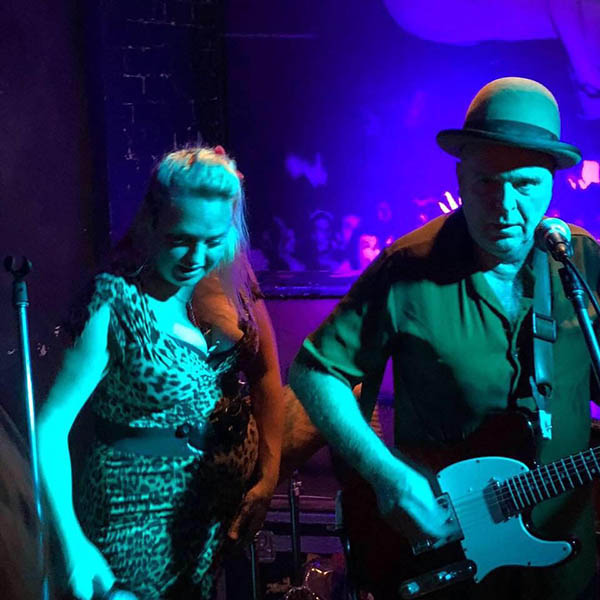 Celia and Ross from White Knuckle Fever.
3. 'Raising Funds for Cobargo' w/White Knuckle Fever, Paul the Firey, Syntax Error, RMM & the Bin Chickens - January 24th at MoshPit, Sydney
A stellar lineup for an even better cause - all on the night that unveiled MoshPit's new stage and increased capacity. The little bar was chockers tonight - a hot sweaty mosh on a humid end of week night. While fires burned around the state, rock n roll filled this venue witth aplomb and dynamo. In the middle of it all was a moving moment from Paul the Firey, who'd been at the frontline fighting fires down south. Hats off also to some of the best sets ever from White Knuckle Fever and Syntax Error. The opening act RMM @ the Bin Chickens were a riot that reminded me of The Slits and a Melbourne act from the 90s called Womnal.
4. Nunchukka Superfly, White Knuckle Fever, Bitchcraft, Babymachine, Garry David - February 21 at Marrickville Bowling Club, Sydney
A Friday night stacked with bands at one of the best Sydney venues. Plus, wasn't it refreshing to not have another sausage serve fest of tired old rockers. Nunchukka Superfly, I wanna say are a cut above many - they make a sound like no other that is streets ahead of itself. I can't wait to hear there new release. Mind you, the other acts all had something - The might and power of femme rockers Babymachine (Wollongong) and Bitchcraft (Newcastle) is beyond explaining.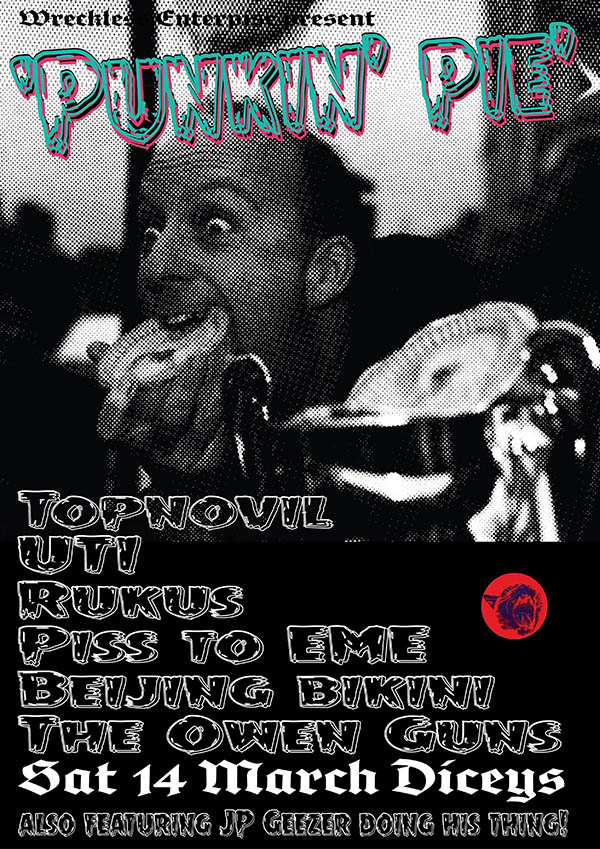 5. Wreckless Enterprise Punkin Pie w/TopNovil, UTI, Rukus, Piss to Eme, Garry David, Owen Guns - March 14 at Dicey Rileys (Wollongong)
Onya Ronny Van Dyk for giving us this cracker of a bill in the Gong just before the plague hit. A mesh of diverse acts from Newcastle, Sydney and some of Wollongong's longest serviing DIY punk band in TopNovil and Rukus with TISM's bastard parents Piss to Eme from Newcastle. Owen Guns had some real range too and kinda reminded me of the Cosmic Psychos. Thanks to a show expertly orchestrated by Wreckless Enterprise with enough variety to keep you guessing.
6. Examplehead July 5 at MoshPit (Sydney)
By July, MoshPit were really champion livestreaming. And what better band to have than this single serve of mayhem and thuderous noise. Examplehead reformed in 2020 which means Sydney is a better place. There's already talk about a new album in 2021.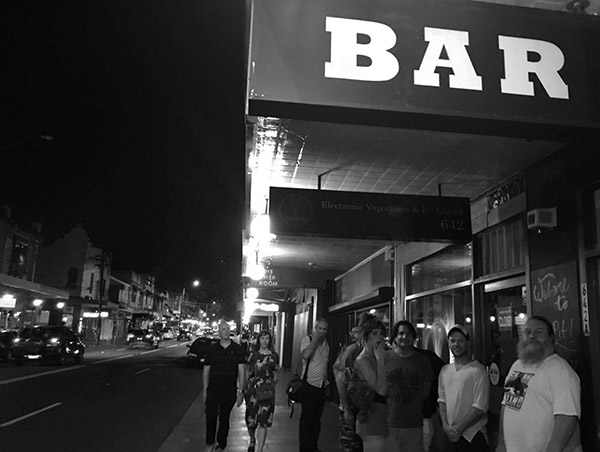 MoshPit on King Street in Newtown.
7. SUSS and BLUNT Presents Stone Cold Fox, Beijing Bikini and Shark Arm at Fusebox Factory Theatre (Sydney)
Asides from the venue location being way overpriced ($9.50 for the cheapest can), this evening was the debut of SUSS (Sydney Underground Streaming Sessions) at the Factory Theatre. MC'd by the entertaining Beinito Di Fonzo and Christa Hughes, the SUSS contingent know how to put on a great show and tonight was no exception. Shark Arm are the best two-piece in the country at the moment with their raw unadulterated sounds. I am personally hoping that they will make Sydney dangerous again. Stone Cold Fox is Celia Curtis' other outfit when she is not fronting White Knuckle Fever - aptly billed as dirgy, brooding, entertaining blues that emanates from the Sydenham swamp.
8. More positives are DIY'ers like Wreckless Enterprise Records (Wollongong) and Outtaspace Presents - both ran by true music fans and huge contributors to what is going on right now. I like the way they both work together and make things happen bringing bands together from all parts of the state. Also, Monster Mouse on Gerard Street, Marrickville, is a cool rehearsal studio that also backs up as a DIY event space with artists in residence too.
9. Orbital Radio (ran out of Faversham St in Marrickville) - when Johnny Wineberg and his crew (Mad Fer It Promotions) said their byes to pubs and bands, somehow this jack in a box achieved what Sydney has been pining for - a radio station online with a real cool crew of people who want to work together to get this supposedly 'dead city' back into shape. Tune in to www.orbital-radio.com
10. Upwards for 2021 - SUSS and ZENN livestreaming 'the new new' - these two worked hard all througout Covid putting on great livestreams (SUSS at Faversham St) and ZENN at MoshPit. ZENN initiated the move in early May and worked tirelessly to keep it all intact. Their work with the wonderful GUNK Monday nights was testament of how good it is to have such great technicians on board. Also, a shout out to Milly, Adam and Mark for the recent opening of Link & Pin in Woy Woy. Fingers crossed this may well prove to be yet another Outtaspace masterstroke as it brings together bands locally on the Coast and elsewhere.