Mad Marc Rude: Blood, Ink & Needles. Directed by Carl Schneider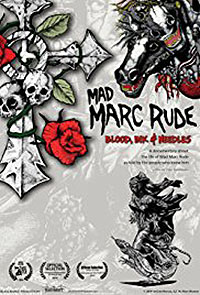 "He was a cocked pistol." -Robert Williams.
Mad Marc Rude grew up in '60s New York, the son of an abuser cop and negligent mom, who frequently expelled both him and his sister from the family home. He attended Woodstock the year I was busy being born.
I think I first became aware of him as a teenager, when I read an article about the Hollywood punk underground in the pages of Rolling Stone. I already published a shitty fanzine and was the rowdy front man for a defiantly outcast Midwestern garage band that performed covers of Dead Boys, Misfits, Cramps, and Gun Club songs, as well as some sucky Dead Kennedys influenced originals with cartoonishly banal titles like, "Victims Of The System".
Rude reminded me of my brooding older guitar player, a deeply anti-social, angry designer who shared many of his same talents and interests in the morbid and macabre, the dark stuff. I lived in an unheated crawl space attic above a friend's mom's garage. My guitarist mentor lived in a stinky, rodent infested apartment in low income housing, where we painted, cartooned, wrote songs, and plotted our escape.
We were surrounded by creeps and pimps, corrupt/intollerant authority-figures, superstitious evangelical rednecks, predators, and mental illness. We checked out big city magazines and books about art and Andy Warhol from the local library, which is where we read about faraway cities where weirdoes and outcasts were congregating in decadent night-clubs, performing, and producing exciting works of art.
About twice a year, our combat-booted, "Suburbia" obsessed Mohawk buddy, Scruff, would drive us in his rusty car to a college town record store about two hours away, where we would load up on English punk band t shirts, Flipside, Maximum Rocknroll and Forced Exposure magazines, little band buttons for our lapels, and stacks of dollar bin cut-out vinyl, sold to the record stores by R.E.M. college radio people who always overlooked the wilder bands from little labels on the coasts. We fortunately stumbled upon all kinds of great groups like the Little Kings and Tex and the Horseheads. Rude designed the album covers for those bands, as well as the Misfits and Battalion Of Saints.
He had been a blue collar laborer until he got hurt and had a kid he loved, but did not know how to properly father. He was extremely blessed with a real genuine gift for art and a belligerent, world renowned enthusiasm for bands like Circle Jerks, Black Flag, the Chiefs, and the Misfits. His artwork had adorned countless fliers and fanzines in San Diego when he was a prime mover, promoting and policing early punk rock shows. He was an original catalyst of the whole scene, mocking and intimidating posers, and demanding the kids respect the performance space, before relocating to Hollywood.
I was just a kid, reading about his exciting circle of friends in my pen pal Shane Williams' old "Flipside" column, inspired by Marc's gripping, intricately detailed, starkly provocative, pained illustrations, which were always challenging works of tortured beauty-he was like the sandpaper-voiced, barroom brawling Johnny Thunders of gothic illustration. His art was seething with rebelliousness, acute sensitivity, and unruly soul.
We were all still starving for any books or music that spoke to our insubordinate little hearts and were always scrounging for access to coastal media and devoured second hand vhs copies of "Border Radio", "Dudes", Du-beat-e-o", and the "Decline Of Western Civilization" films. We loved the Runaways and the Go-Gos and Black Flag and TSOL.
That "Generation Zero" article about Marc's hedonistic lifestyle, bone collection, savage charisma, and his stormy love affair with his brainy flame, Iris Berry, made those two seem like the most romantic and passionate lovers in the world. They were golden youth, creating, experimenting, exploring, experiencing, they were so fully alive. She of the beatific smile, he of the barbarian, black clad, bone necklace coolness.
Ever since I was a little kid watching "I Love Lucy" reruns with my Kentucky grandmother, I always wanted to move to L.A. and be in show biz and I dreamt of joining all these forgivingly free spirited poets and hard-boozing, free-fisted outlaws in the sleepless cities. Talk about cautionary tales....Marc was no saint, as much as his many admirers respected his use of ethical violence to protect and defend the meek, and his no-bullshit honesty as a businessman; several intimates hesitantly, painfully recall, how that very same talent for street fighting spilled senselessly into most of his intimate relationships, which is a tragic shame. Nobody gets over a childhood of hate and neglect, and no matter what he accomplished, or discovered, he was still haunted, hell-hounded, discontented, tormented by bad memories from childhood traumas.
Much of the film is filled with his many talented friends remembering the spontaneity and loud laughs, but an awful lot of air-time is devoted to all of them talking about him being scary - pulverizing this guy for some imagined slight, or pummeling that guy for "ruining the atmosphere", by stupidly wanting to slam dance to the romantic dirges of the Psychedelic Furs. Always with the fighting, drugs, bloodshed, and shattered glass.
He had great taste in music and was always the first to discover all the best post-punk bands. He was loved by one of the great women of his time, and finally embraced by a now legendary community of artists and musicians and tattooists and writers who all thoroughly appreciated his anguished art, fearlessness, righteous loyalty to the cause, and appetite for full blast fun.
These true stories always end sadly, and much of his life was a harrowing spiral. This movie starts off like a big party and ends with a Peter Laughner song. Johnny Thunders said, "everybody loves a happy ending", and well, let me go ahead and tell ya-you won't get one here. The saddest film I've ever seen, one can't help but deeply empathize with this wildly creative, aggressively dysfunctional, achingly sincere, reckless, and sometimes abrasive anti-hero. He was not one of those P.C., simpleton, one-dimensional, money-making, home-improving, Home-Depot shopping, obedient boy-band conformists who are celebrated, nowadays.
He was a powerful personality with raw leadership ability, but never fully exorcised that mean cop streak, so he was into drinking, fighting, numbing-out and getting high, he was not alright, it's true what they say-however cliché: hurt people hurt people, but, man, his artwork was timeless, graceful and profound, like a cemetery. Everybody in the film struggles with both cherished and conflicted memories of his his mercurial, extraordinary personality, which magnetically drew people close to him, but just as often, sent them fleeing from his dangerous moods.
He was a heroic protector and obsessively jealous. Nakedly honest, but he lied about drugs. He was a show-off fun hog, but took it all too seriously. A barrel of laughs, but deeply depressed. Excessively macho, but would straighten his hair and do fad-diets and girl stuff with his movie-star love. Mad, bad, and dangerous to know. I think most of us are complicated and share some of his contradictions. Nice boys don't play rocknroll.
His co-worker at Scream recalls learning from Marc that, the important thing is: you try to do what is right, even if you know you will lose, even if you sometimes or even frequently fail, you have to follow your conscience, stand up for what you believe in, even in the face of danger, even if you fuck up, even if you are fucked. It's clear he tried to do all that. Win some, lose some, you will struggle, make mistakes, try again...but you always have to go for it.
He was a flawed, exceptionally talented outsider with a brute integrity. This is a film about losing and fucking up. It hurts. I can really relate to it. The only redemptive silver one can take from this heartbreaking documentary is really that his longtime love, underground icon, Iris Berry, has gone on to become an advocate for original voices, a lighthouse for survivors, a heroic publisher, a healer, a formidable writer and inspirational figure. I can listen to her talk for hours.
Wherever his energetic stardust may be in the universe, you know he is present, grateful and proud of her. They both left sparks of light behind them, wherever they travel. They started the fires and tended these warm little hearths, left some of their cinders burning, for generations to come. It's a sad story, but that don't mean it ain't a good story. We'll all watch it again.



and then some

Tags: misfits, mad marc rude, carl schneider, circle jerks, flipside, scream, forced exposure, maximum rocknroll, battalion of saints