When the hottest ticket in town is insanely hard to buy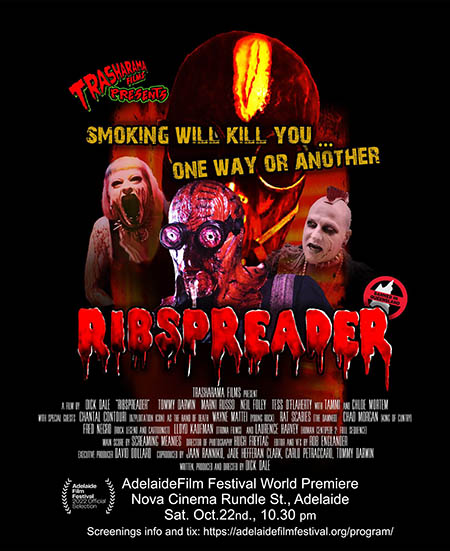 Ribspreader
Written, directed and produced by Dick Dale
Starring Tommy Darwin
Adelaide Nova Cinemas
Saturday, October 22, 2022
Would you go to see a slash 'n' splatter flick made in 'Straya's Murder Capital of Adelaide with guest appearances by Chad Morgan, Chantal Contouri, Fred Negro, Spencer P. Jones, and Rat Scabies?
Do bears shit on the Pope?
Do excuse me, it's the morning after the night before and I'm mangling my metaphors. Anyway, last night I went to see one of the films at the Adelaide Film Festival. The world premiere of "Ribspreader".
About a week-and-a-half prior, I'd tried booking online; after selecting two tickets, I was asked my email ... and then, nothing happened. Maybe it didn't work. I tried again, found that their system now had me down for four tickets, asked me for my email and again, nothing happened. No email. After the second day of no email from the AFF I figured, I'll have to use "other sources".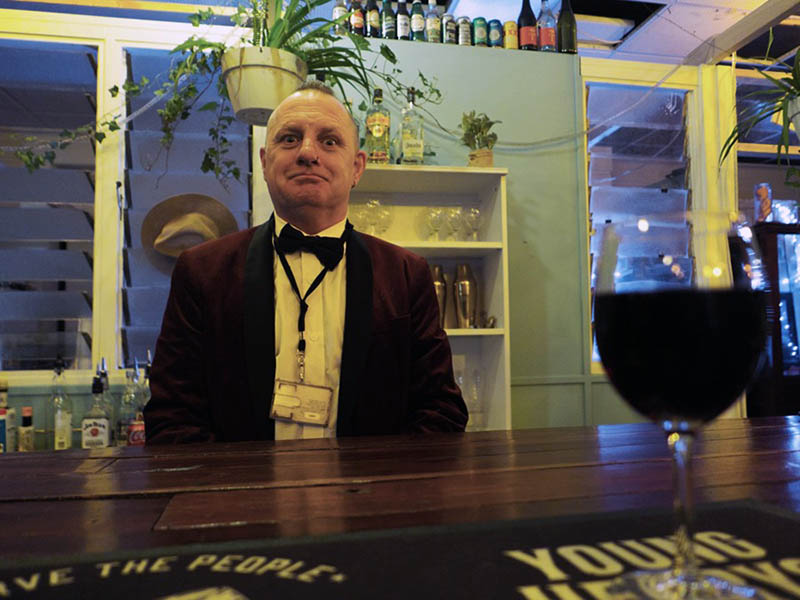 Filmmaker Dick Dale doing his best not to look lioke an Adelaide serial killer.
After that I wasn't much inclined to check out any of the other films on offer at the AFF. The rest would have been a whimsical thing for me, as, while I love films, I don't get out much these days. I know it wasn't me with an attack of the technoclumsies, by the by, as word reached the folk behind the one film I'd been looking forward to (for at least the last seven years) that this had happened to numerous others.
Ribspreader's first screening somehow sold out, followed by a second screening, and a third was laid on. In the end I made "other arrangements", shall we say, only to receive an email from the AFF on the day of the screening offering a last minute wedge of tickets. Curiously, at this point the AFF website stated that the third screening was "sold out", but (still irked) upon asking at the box office, there were still tickets for the third screening.
I'm sure the AFF didn't expect a low-budget home-grown slash 'n' splatter flick to pull more than 30 unwise punters, and certainly didn't expect it to sell out two screenings. How they bungled the website, each screening (there were still about 25 empty seats in that third screening, which I attended) I have no idea.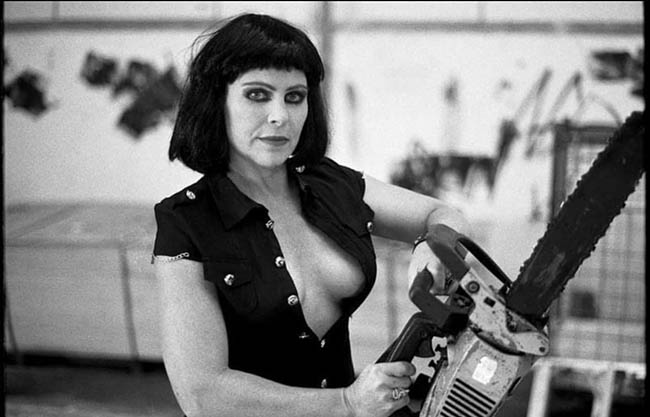 Tess O'Flaherty has something to do wioth the cutting room floor.
Anyway. I don't wish to give too much of the pacy, precisely scripted, and ball-bouncingly funny story away. Most of Adelaide's underground were there last night (those who could get tickets or didn't believe the last screening was sold out) and it was rather wonderful to see so many cold todgers (sorry, old codgers) in the same place. A bit like hopping in a time machine and arriving back in 1982 but with the ugly-stick being wielded with nosegay abandon...
It was like one of those memorable gigs, without a band... or one of those extraordinary parties where all 300 or so of us packed into a two-bedroom bluestone and the brothel next door called the cops to complain about the noise (yes, true story). Of course, hardly anyone smokes anymore, so the carpet of ciggie butts wasn't in evidence...
Ciggie butts are a big part of the film. As is murder, mayhem, rawk 'n' roll, guts 'n' gore, badly-dressed everybody (except Chantal who, for a couple of heart-stopping minutes, almost steals the show), with blood and guts a-plenty.
And get this, it's directed, filmed, and cut really damn well. Dick knows this ain't gonna be taken "seriously" - it's not a horror movie. "Ribspreader" is in the mould of the 1980s splatter films, knowing and wickedly funny, and portrays an Adelaide very, very familiar to almost everyone who saw it last night. He's also peppered the film with so many faces of those we have come to know and love. I don't want to give any of it away, but I know I have to say a few things, so:
There's a purple Valiant. There is violence. However, there are no nude ladies being slaughtered (a trope beloved of the 1980s genre, but which I usually found tiresome).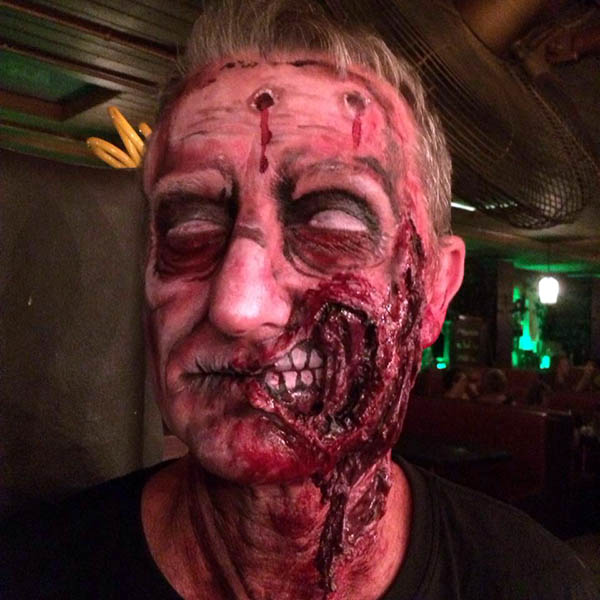 Actor Chris Cashel shows what Adelaide water does to your complexion.
Seeing Rat Scabies on the big screen was hilarious. Also, I figured it's the teeth which got him his nickname. You know, snaggly English teeth.
A bloke I've known since we was kids in the same northern shithole suburb is offed by his missus in the first scene.
A chap I'm recording with at the moment, an inspirational and evocative musician who I love dearly, looms from a tunnel at a place I used to go to at 11.30pm after work in 1986.
So many places and people we recognise. Wonderful. For us, it's a validation. There we are! (But that's not what filled all those seats). For youse lot in the other states, "Ribspreader" will tick all your prejudice boxes about Adelaide.
It's not our fault they're all mostly true.
Dick Dale has pulled off a labour of intense love and dedication, with fuck-all funding, to produce a well-paced thriller which doesn't take itself too seriously but still manages to have you glued to your seat, fascinated, bug-eyed and occasionally disgusted. It's a magnificent achievement.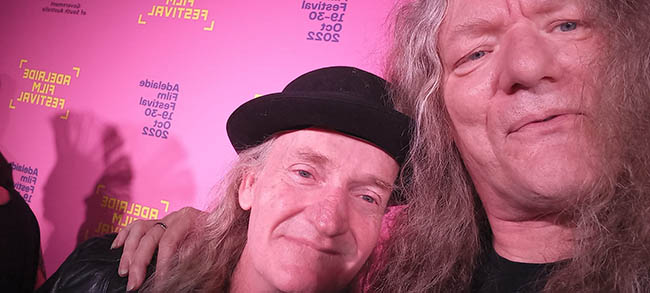 Lead Tommy Darwin walks the red carpet with Herman Lauss.
Lastly. Remember the horror film "Wolf Creek"? I'd be willing to bet "Ribspreader" was made for less, and it's just as accomplished.
Hollywood, what would Dick Dale make if he had access to some real money?
I want to know, and after seeing this, you will too.
You'll have to badger the AFF and Dick Dale to see if it's ever gonna get to the east coast, though. Maybe it would be easier to pester your local independent movie house.
For more info (and some damn good quality T-shirts) go here here.
Tags: rat scabies, spencer p jones, fred negro, dick dale, ripspreader, adelaide film festival, chantal contouri