BARFLY TOP TENS: The Smart Folk and Amazing Woolloomooloosers bassist Keith Claringbold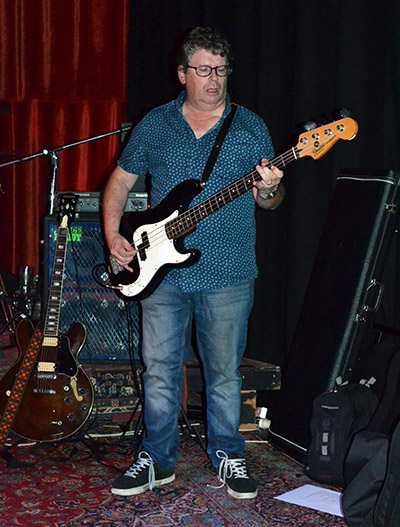 KC goes to more live shows than your mother goes to Tuppaware parties. Here's his Top Ten of Sydney gigs.
EVEN – NEWTOWN SOCIAL CLUB
A power pop fans dream and a very early "gig of the year" contender from the Fab Three. Supported by the wonderful On and Ons and Soul Movers on a stinker of a summer EVENing. Is it heresy to say I like them and their songs so much more than You Am I? I eagerly await the Christmas Even show at The Landsdowne on December 23.
THE APARTMENTS – THE FACTORY FLOOR
A wonderful set of sparse songs, full of emotion, not sentimental but heart tugging and soul searing. Spare and simple arrangements enhanced by nuanced and subtle musicianship of Peter Milton-Walsh's fellow musicians, including Amanda Brown.
DIED PRETTY – ENMORE THEATRE
Following on from two cracking shows in 2016, Ron Peno and co delivered another amazing set and they were the band of the night at Radio Birdman's big show. Brett Myers, what a guitarist.
THE UNDERTONES - METRO THEATRE
"It won't be the same without Fergal". It was brilliant. What a catalogue of hits or should-have-been-hits. Middle aged kicks all through the night!
LOUIS TILLETT AND THE ART OF DARKNESS – FACTORY THEATRE
The master of moody melancholy returned with another great show. As with his appearance two years back at the Factory, Louis had a stellar band backing him who were wonderfully subtle yet also able to stretch where the songs required it. His voice remains undiminished and the vocal support and occasional lead vocal from Rachael Slattery added another dimension to the overall sound.
THE AINTS –BALD FACED STAG HOTEL
Among the rush of "40 years since" shows, Ed Kuepper's decision to tour and play the songs of The Saints did bring out the expected "not the same without Chris blah blah" comments. Well Ed, Peter, Paul and Alistair and the horn section answered any misgivings from the first note of Messin with The Kid. Sure, Ed did make some adjustments to keys and arrangements but they were very minor (boom boom) . The new/unreleased songs were an absolute revelation and I've already blathered on elsewhere about the brilliance of the scorching Nights In Venice, not just the highlight of this set but the highlight of this and just about any other year.
HITS SUPPORTED BY CABLE TIES – MARRICKVILLE BOWLING CLUB
A rare stop in Sydney town for Brisbane's best and wow what a treat they brought with them. Cable Ties absolutely blew everyone away with their intensity and superb songs. Those kids are alright. HITS were on fire too and seem to have really nailed the new songs for that upcoming album. I cannot wait to hear it and to see them in Sydney a little more frequently in 2018.
SHY IMPOSTORS /FLAMING HANDS –ENMORE THEATRE
The return of two much loved early 80s bands in support of the Sunnyboys. Both of them showing why they were so loved and so missed. Do I dare to dream of more shows from both bands in the future?
THE STEMS/ ROCKET SCIENCE- FACTORY THEATRE
Melody maestro Mariani, ably supported by power popping princes Naylor and Lane effortlessly gliding through a set of wonderful 60s influenced pop songs. Nicely contrasted with Rocket Science and their intense tales of the dark and strange. Burn in Hell should be an indie classic up there with My Pal and others.
SIR PAUL MCCARTNEY – QUDOS ARENA
Yes, I know it is not till next week. I also know it belongs here.
Tags: top ten, sunnyboys, Hits, died pretty, cable ties, flaming hands, shy imposters, keith claringbold, rocket science, the aints, even, apartments, undertones, paul mccartney, beatles