Top Tens for 2021: Big Daddy K Kevin Cherry of 2RRR's Sydney Sounds show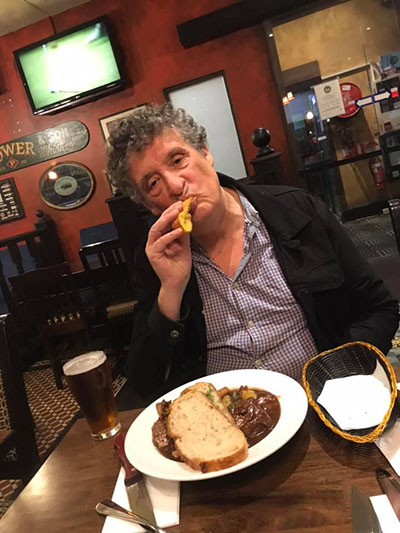 Kevin 'BIGDADDYK' Cherry
SYDNEY SOUNDS 2RRR 88.5 SATURDAY 6PM (Sydney time)
TOP 10 + 2 OF 2021.
DATELINE: FRESHWATER BEACH, SYDNEY, NSW: I'm fortunate to be living within 10 minutes walking distance to the birthplace of Australian surfing - affectionately known to the locals as Freshie. I usually go there in the early evening around 6pm when it's un-patrolled as there are less people and cooler so I'm less likely to get sunburnt. Water temperature has been tropical (around 21 degrees Celsius) but refreshing. A great, healthy and socially-distanced way to spend Summer.
The following 12 highlights (in no particular order) are by local bands recorded during Covid lockdown and regularly played on The Sydney Sounds Show ON SaturdayS 6pm 2RRR 88.5mz.
1. MOONLIGHT FIVE
Made their debut last year (and listed in my Top 10 of 2020) with the polarising song/video "Lockdown Blues", followed a few months later with the more accessible "Listening to Gospel Music on The Radio" - both of which received radio airplay, locally and overseas, to critical acclaim. About to launch their third song/video "I Just Want To Be Me" which had its radio airplay debut on SYDNEY SOUNDS on January 8. A band that are not afraid to go out on a limb and create something a bit different from the usual Sydney rock sound.
3. THE ON AND ONS – "BACK FOR MORE"
A three-piece power pop/rock band. Catchy hooks, drivin' tunes that remind you why you love listening to music in the first place. The songs are composed by guitarist/singer Glenn Morris with harmony vocals and drums by his brother Brian and bass and vocals from Clyde Bramley. They put on a great tight rocking live show too
4. SONIC GARAGE- "SPACE TRAVELS"
Debut album dedicated to late Circus Chaplains colleague/mate. Luke Lovelock, it was recorded and released by these Northern Beaches based rockers. It features songs by former Circus Chaplains bass/guitarist/vocalist Peter Burke and guitarist/vocalist Phil Van Rooyen.
5. EAST COAST LOW – "SEAS ON FIRE"
High energy 'Steel City' Newcastle-based band who I haven't managed to catch live yet and featuring strong vocals from Michael Cornish. East Coast Low features guitarist Al Creed (Hell Crab City, New Christs and The Panadolls) who also released a solo song called "Is This All" during lockdown. That featured Stuart Wilson who has played in bands too numerous to mention. the latest being…
6. THE RIVERS - "MARRICKVILLE PARK"
It's country and jazz influenced pop/rock reminiscent of '80's bands Flaming Hands and The Visitors, featuring vocalist Siena Egan, and Stu Wilson. It emerged from his Stu Stu Studio where colleagues from The Rivers and Loose Pills played on a solo mini album as Stu And The Connections.
7. M.D HORNE'S LAST CALL- "HIGH TIDES, MORE CRIMES"
Folk and country influenced ballads with a strong Australian independent rock feel performed by 300 st clair bass player Mark Horne. The single "Skin and Bones" has a catchy chorus as do a few of the other tracks on the album, delivered in Mark's distinctive vocal style.
8. LEADFINGER
A band from the Wollongong region of N.S.W featuring guitarist/songwriter/vocalist Stewart Cunningham who, having recovered from a life-threatening illness, has bounced back even stronger with three great singles, "Nobody Knows", "Fall of Rome" and "Girl on a Bus" which are obtainable here.
9. SIMON CHAINSAW – "POP"
Guitar-driven power pop from guitarist and vocalist from the '80's band, Vanilla Chainsaws. Simon spent the '90's honing his craft in Brazil. The album is packaged with a 14-page booklet of lyrics and illustrations. His cowpunk alter ego Chrysler Broham has earned his spurs with a new single from his other band Broham called "We've Got It All.". Buy it here.
10. JUPITER V- "H BOMB"/"SUPERSONIC HERO"/"MINESOTA STRIP"
It's 60'S influenced garage and '70's glam influenced rock. They put on a fun live performance too with idiosyncratic frontman Jay Younie. CD single with the extra track available here.
11. FABELS - "MINDS"
Trippy and trancey post punk electric soundscapes from a duo featuring Hiske Weuers and Ben Aylward.
12. WHITE KNUCKLE FEVER- "RESPONSIBLE SERVICE OF ALCHOL BLUES"
A double seven-inch vinyl single pack of raunchy, swampy psychobilly influenced rock from Sydney two-piece act featuring Celia Curtis on blues harp and vocals and Ross Johnson on everything else. They put on a fun live show too with Celia's uninhibited performance spiced with burlesque style humour.
Tags: the on and ons, kevin cherry, east coast low, jupiter 5, MD Horne, moonlight 5 , sonic garage, the rivers