I Feel Alright - Space Boozzies (Outtaspace)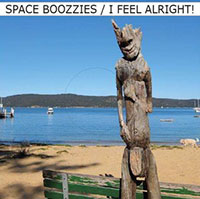 With Sydney's long-running Dunhill Blues on hiatus, bassist Adam has opted to crank up the rumble with a new band, Space Boozies. "I Feel Alright" is their debut LP.
The Dunnies have been through several phases - garage big band, thrash country rock and battered blues rock - and but for a few superficial similiarities, Space Boozies sound a lot like none of them.
The Boozzies keep it short and sharp but there's a touch of bitter-sweet jangle in the guitars. Their music is still parked in the garage, but it's not as determinedly abrasive. Think of them as an Antipodean version of The Raunch Hands. Music to drink rather than to think by.
Where the Dunhill Blues wanted to tickle Nick Cave, Space Boozzies are keen to share some quality time with Australia's Queen of Decollage ("Tonia Todman's House") and swap egg recipes with Peter Russell-Clarke. The irreverence of the Dunnies hasn't gone away.
It's two guitars and interchangeable vocals all the way with no respect for genre boundaries. "Vomit Song" is pushy suburban punk, a la the early Rifles, and "Let's Slaughter It Out" is spiced with some fine psych guitar. "Messy In Umina" is a hybrid surf instrumental stomper and "Knuckle Down" is your basic punk rock rant. Closer "Big Bones" gives itself room to move and is one of the eight originals.
The last time these ears heard "The Nips Are Getting Bigger" it was being played by a po-faced, corporatised version of Mental As Anything. In a word, they were shitfull. Space Boozies' hungover version is looser than a liquorice fiend's bowels, but it's probably still two shades better than the live version I endured. "Goo Goo Muck", on the other hand, approximates the drug-laced, horny derangement of the Cramps' version just fine.
Adam produced and Mikey Young mastered. It's a short run on vinyl only so don't snooze.



3/4
Tags: garage, dunhill blues, mikey young, space boozies