Mind blown by a bloody French love letter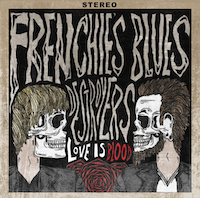 Love is Blood - Frenchie's Blues Destroyers (self released)
Hello, I-94 Barflies! Hopefully, you're all well and healthy folks, and with all this self isolation it certainly gives you plenty of time to listen to the music we love.
Sometimes, something comes along and totally blows your mind. Well, ain't that just fine. So if you want your mind blown, you have to get your gloved hands on this fucking masterpiece.

Frenchie's Blues Destroyers are from Austin, Texas, and "Love Is Blood" is full of dirty sounds. It's based on huge guitar riffs and some quality vocals. But this ain't a blues album; this is garage rock meeting pop, with just a dollop of country blues.
This is a band with a total of two members who have nailed what's good in music.
Kevin "Frenchie" Scion (vocals and guitar) and Pete "Brother Pete" Coatney (drums) are totally in synch from the first of what are many gritty yet toe-tapping, dancing tunes.

"Little Bit Crazy" kicks this album off by grabbing you tight from the opening bars and not letting go. "Beautiful Mess" is a killer song. The title track is also wonderful. "Get Through To You" sounds just like Australia's own Stems and is a blast, while "Juju Boo Bunny" just grooves.
There are nine tunes and there ain't a bad track on this album.
These guys got their start playing with Scooter Jennings' rocking band Stargun and Junior Brown's Band, after Frenchie sold a guitar to buy an airfare after scoring a Green Card to work in America from his homeland of France. Thank fuck they let him in. This is like American music they way it should be played - and it sounds like it was recorded in one spontaneous and fun session.
Sacre bleu, it's good! There ain't much more I can say, but you have to listen to this wonderful album for yourself. Hear some of it at the band's website where you can also buy a copy. So stay safe and healthy - from the Farmhouse in Dimboola.







Six Beers please Barman
Tags: texas, frenchies blues destroyers, love is blood, austn