New EP captures The Sunday Reeds magic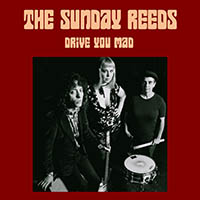 Drive You Mad - The Sunday Reeds (self released)
Well, The Farmhouse has been rocking, again. "Drive You Mad" is the new EP from the fabulous The Sunday Reeds from Adelaide. This six-track EP is a cracker.
Led by Romana Ashton (vocals and bass) this trio is rounded out by Drew Jones (guitar) and Sarah "Shakey" Portaro (drums.) Let me say this: they are crazy-good live. I've seen them supporting some of Australia's finest bands - Exploding White Mice, Radio Birdman and Hitmen DTK just to name a few - and they hold their own with catchy songs, pounding bass and some great guitar. "Drive You Mad" captures their live sound so well.
"Drop Dead Cool" starts this cracker EP and what a song this is; two minutes and 14 seconds of greatness. "Rosaleen, It's You" keeps the good thing grooving. "How To Be a Girl" features some great drumming and the guitar-work is sublime.
"Slow Down" is another ripper, but for me it's the last track, "Cult Girl", that's the most awesome. It conjures memories of those wonderful '60s girl groups sounds. Nancy Sinatra meets Dusty Springfield. Drew Jones' lead break is near perfect and Shakey's drumming is subtly appropriate. And The vocals? Smouldering hot. What a tune.
So folks, go to The Sunday Reeds' Bandcamp now to get a copy. Stay healthy, from The Farmhouse, Barflies. Five beers please, Barman.
OK, Ron:



Tags: the sunday reeds, drive you mad