Summoning rock and roll's spirit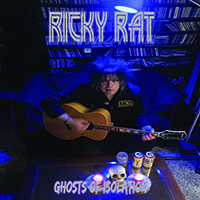 Ghosts of Isolation – Ricky Rat (I-94 Recordings)
First song bangs straight into a Ricky Rat signature, garagey, Romantics or Plimsouls-style powerpop song, with an '80s feel. If you are hip to Ricky's discography, this is his thing, exactly.
"We're still shining, we're still shining" he croons. I suspect it was most likely written during the COVID clampdown, to try to rouse his old cohorts outta those dark and depressing pandemic blues.
"Glow Of Gabriels" reminded me instantly of "Child Of The Moon". Again, this is pretty much, your quintessential Ricky Rat. A Rolling Stones-influenced song with Nicky Hopkins type piano courtesy of Jimmy Bones and a Bobby Keyes style horn solo. They really put some ace production on to this one. Jimmy Bones, the dude who's tickling the ivories does a real good job.
"Lakepointe Nights" is super poppy reminiscing about some happy and contended romantic love. "Singing With The Angels" is most likely his tribute to his hard drinking buddy, the world weary songwriter, Cranford Nix Jr., and/or maybe their fallen pal from Detroit's Feisty Cadavers, Steve Krass (RIP). It's got a little bit of a gospel vibe again, with the world class piano pounding. His lyrical reference to a Flashing Star could also almost be a reference to Kevin Junior (RIP) from the Chamber Strings 'cause he had a song called "Flashing Star", but it's probably not an overtly intentional reference, just reminded me of him.
"I Can't See Shit" is another up tempo Ramones or Joneses like song about drinkin'. I always tend to like the drinkin' songs, for some reason. "Sitting In Limbo" is kinda downhome countryish. "Dream That Can Never Be" seems to be about some elusive, faraway lost love.
"When We Were The Boys" is a classic Trash Brats type song that seems to be about touring, which Ricky Rat has done a lot of, with the Trash Brats, Texas Terri, Kevin K. Band, and even the Dead Boys. You know he's had more than a few of those airport Bloody Marys.
"Bottom Of My Heart" is a misty eyed honky tonk song, halfway between Hoyt Axton and Dogs D'Amour. "Laughing Stock" is a dis track about some sorta show-biz scenester who Ricky does not like. Overall though, it's a very upbeat record, considering thematically it was seemingly written in quarantine, you can tell Ricky remains a pretty optimistic person, and even when he sings about shit getting lost, or going bad, "Surprise!", he sings about it with a sense of levity.
Nicely packaged in purple, the cover photo will remind anyone who's ever stayed up all night with Ricky drinking and playing records of his favorite place to be when he is offstage-near a record player, with a guitar in his lap, and a couple open beers and a drink in front of him. Probably waxing enthusiastic about the Mutants and the Torpedos, or Junk Moneys or Seduce.
"Ghosts Of Isolation" co-stars Joe Leone and Laura Mendoza and features special guests, Jimmy Bones, Chloe F. Orwell, Brad Elvis and Jackson Smith. As label honcho, Jim Rinn says, "EVERYONE NEEDS SOME DETROIT IN THEIR ROCK 'N' ROLL!"

Tags: detroit, trash brats , i-94 recordings, ricky rat, Ghosts of Isolation