The 31st - The 31st (LCMR)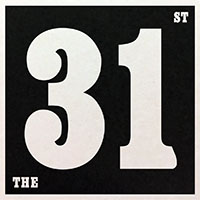 Copies of these four songs have been circulating for years and two have surfaced on compilations. The balance were re-recorded by members' subsequent bands. But don't kid yourself that you don't need this vinyl only 12-inch EP.
The 31st started when future members of Died Pretty (Ron Peno and Chris Welsh), the Screaming Tribesmen (MIck Medew) and the Hitmen/New Christs/Screaming Tribesmen (Tony Robertson) started playing shows in a strip club and anywhere else that would have them. Evidently, they played no one style of music - which must have been confusing for the Brisbane punks, boogie-heads and blues fans to pin a tail on.
The 31st were a future supergroup before those things were called that in Australia. They kicked around the undergrowth of Brisbane's downtrodden music scene in the early 1980s, and fell to pieces before anyone outside of it saw or heard them.
Future Hoodoo Guru Brad Shepherd was to briefly become a member although he's not on these recordings.
Ronald S Peno was a blow-in from Gosford in New South Wales, where he'd been lying low after fronting notorious Oxford Funhouse regulars, The Hellcats. No, I never saw them, but a tape survives and the tuning between songs is nearly as long as some of the covers they played. So The 31st were probably a step above. The other memberss were inner-Brisbane locals who met at school.
The songs were recorded for a planned release and shelved, salvaged from a cassette copy and given five-star restoration treatment by mastering wiz Don Bartley. They always sounded good but the makeover makes them magnificent. The new presence and the clarity in the bottom end especially makes a world of difference.
Fans of the early Tribesmen will know "A Stand Alone" from the band's second 45. Ron's vocal sounds a little strangulated - remember, this is before Died Pretty's "Out Of The Unknown" single where he had to sing with guitarist Brett Myers, so unsure he was of his own voice. The band's playing is tentative, too, but the glimmers of greatness are there. Tony Robertson's melodic bass is especially good and Welsh is well on his way to becoming the powerhouse he is.
Mick Medew's serrated guitar on "Time Moves Fast" is indicative of the ace axeman he'd become and the song's my pick of the litter. Ron's vocal drips with attitude. "Real Gone" was to be recorded by Robertson's future band The Naked Lunch and this version is revelatory. "It's Hard" again highlights the strength of the engine room with Welsh's explosive fills and Robertson's bubbling bass locking in.
Liners by their ex-sound guy, Mark Louttit, round off a nice package. The purchase link is below. Click or regret.






1/2

Buy it
Tags: brisbane, hitmen, died pretty, ron peno, screaming tribesmen, tony robertson, lcmr, mick medew, the 31st , chris welsh, the hellcats