Therapy that will renew your faith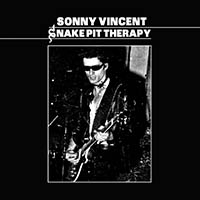 Snake Pit Therapy – Sonny Vincent (Svart)
I-94 Bar regulars will know that Sonny Vincent is held in high regard around these parts. He is the Fucking Real Deal for whom Rock and Roll is a calling, not a paerttime job. If you're not a fan of proselytizing on behalf of Real Rock and Roll, you can stop reading now, because even more than the usual level of evangelistic hard-sell follows.
Just the facts: "Snake Pit Therapy" is Album Number 30-something from the indefatigable punk rock veteran and it's as good a collection of songs as he's delivered to date, as well as his best-sounding record.
Not to be confused with Sonny's recent book of the same name, "Snake Pit Therapy" blends familiar melodies with powerful downstroke playing and buckets of passion. It's delivered with a measured wisdom that only a life lived travelling many miles of bad road can bring.
The lyrical politics are all about the personal. The sound's not as raw as many of Sonny's antecedents (cf: his Vincent's Max's Kansas City band Testors or his solo landmark album "Parallax In Wonderland") but "Snake Pit Therapy" is every bit as energetic and compelling as anything in his back pages.
No need for a detailed track-by-track. The short story goes that the 15 songs were recorded in two chunks in Florida and Europe - the last batch around the time that the "Caveman Logic" album was done in Portugal with Bobby Liebling (Pentegram) and Jimmy Recca (Stooges). Recca is a contributor to one track on "Snake Pit Therapy" but for the most part, onetime Arthur "Killer" Kane bandmate from the Corpse Grinders, Paul Blaccard, plays drums and fellow CBGB veteran Jack De Angelo is on bass.
Wanna taste? "Messed Up In Blue" is an archetypal Sonny song; an undulating melody and gritty guitars with a bolt of sunlight shining through. There are a few others here. "The End Of Light" has a similar melodic approach and casts its protagonist as The Eternal Outsider, running from those things that would destroy. After an intro that recalls some of Vincent's experimental work on his "Good Dogs Die Young" album, "Ruby Diamond" weds another killer melody to caustic guitar.
The stuttering "Japan Mofo" (Jimmy Recca on bass) hurtles out of the gates like a mutant rocker but latches onto its "I'm down for you" chorus like a hungry punk hound chomping on a bone: "I got a lose screw baby, tighten me up". It's a companion piece to the bustling "Higher Than Charlie". He may not surf but he rocks – hard.
"Get Out" is a farewell note to mental trauma, a drug or a painful partner (take your pick) that seethes with anger, underlined by expressive guitar. It's not all doom and fury, though. Mid-album tracks "The Rain Is Here Again" and "Can't Absorb" are fine mid-tempo rockers that give pause for breath before "Never Tire" lifts the pace, surging ahead on the back of a raw Stones-y intro riff.
"Forest" takes things in an entirely different direction and is among a handful of ballads in the Vincent oeuvre. Which is not to say its wrapped in soppy strings or gloomy piano. Guitars wash all over an ultimately optimistic lyric that resolves itself with a punch.
Just dive in and grab a copy here and trawl through the riches at Bandcamp. If you're lamenting the days when punk rock meant something, there's your therapy.



https://svartrecords.com/product/sonny-vincent-snake-pit-therapy-album/
Tags: testors, sonny vincent, pentagram, svart records, jimmy recca, snake pit therapy, paul blaccard, jack de angelo