There's no Remedy for re-making a classic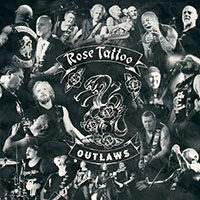 Outlaws - Rose Tattoo (Cleopatra Records/Punktured Media)
On which the current, immaculately qualified Tatts pay tribute to the heritage created by a late and much missed past line-up, with mixed results.
Dispassionately assessing a re-recording of Rose Tattoo's classic 1978 self-titled debut album is a tough assignment for any fan of the original work. It was a unique record.
A masterful blend of blues-boogie-rock with massive bottom-end swing. It was laced with punk's confrontational edge and delivered by true outsiders with a gang mentality - when both of those qualities were real and mattered.
"Rose Tattoo" was swathed in self-confidence and armed with a rare degree of swagger. It was great enough to put the Tatts onto the world stage but was not given that chance. That opportunity only came a few years down the track but ran aground on fading band solidarity and the ignorance of clueless corporate marketeers.
Four decades later and sole survivor Angry Anderson decided to assemble a new - and stellar - line-up and record it all again, adding a single B side (Snow Queen") and two other songs ("Rosetta", "Sweet Love Rock 'n' Roll") that didn't appear at the time. Archivist Murray Engleheart gives voice to Angry's rationale for doing this in the liner notes but the big question remains inadequately answered: Why remake a classic?
Here are two theories.
Many, if not most, musicians are perfectionists who think something great can always be done just that little bit better. It's the eternal search for the perfect take, the version that's just one degree closer to perfection. It's how Phil Spector built his Wall of Sound. Excuse the analogy (it's a paraphrase from "Kill City") but it's a loaded gun for some.
Did you hear Cheetah Chrome's re-recorded 2017 version of "Young Loud and Snotty" (released under the Dead Boys name, no less) and could you imagine the Stones doing the same with "Exile"? Nuff said.
Secondly, the contemporary Tatts have played plenty in Europe, but not the USA. The last time any line-up visited was 1982 - on the back of "Scarred for Life". The first album never merited a commercial release in the States, although its songs are known to plenty. Re-tooling "Rose Tattoo" - "Outlaws" is on Californian label Cleopatra - in tandem with an extensive live tour made sense. Of course COVID-19 had other ideas and that run has been shelved for now.
This is easily the best version of Rose Tattoo that Angry's had since band founder/slide player/oracle Pete Wells left the building. Long-serving Dai Pritchard on slide (in the left speaker) was Wells anointed and does a fine job filling huge shoes. Bob Spencer (in the right speaker) has a sharp rhythm hand and creativity, mixed with a bluesy empathy with the material.
Ex-AC/DC bassist Mark Evans anchors the bottom end consummately (and fittingly - he was a huge fan) and if Jackie Barnes doesn't match Dallas "Digger" Royal for pure swing he doesn't fall far short, with the bonus that he hits fucking hard.
So onto "Outlaws". If Alberts in-house geniuses Vanda and Young hadn't been available for the original, it's a fair bet that a then up and coming producer named Mark Optiz might have been next choice. He produced "Outlaws" and the mix has transparency without the same raw energy. It lags in parts and is a little glossy - but bearing in mind the American market, maybe that was the intention.
One of the joys of seeing these Tatts live is that they reach right inside inside the songs and occasionally stretch them out. They're way better than cabaret - which is almost always the failing of bands reprising well-known stuff - and play with spirit. Much of the attraction in the original album lay in the fact that the songs were slammed out, without embellshihment.
Angry's on-stage rants have attracted and repelled in equal measures over the years. He's always had an aura of excess in disproportion to his stature, whether it was in between-song patter, interviews or boozing (it's Stones Green Ginger Wine these days, by the way.) Without someone providing quality control, that excess has leached over into post-Wellsy re-recordings.
He'd take the song lots of places in his own bands but it's not to think that its writer, Ian Rilen, would have hated the jamming in the extended version of "Bad Boy For Love". The anthem "Nice Boys" has also put on some flab. Slower numbers like "The Butcher and Fast Eddie" to one side, the best Tattoo was a hard boogie outfit and not a jam band
Assuming "Rose Tattoo" had never been released, would we be applying such a high benchmark? Of course not, but that's purely academic.
A word of warning: "Rosetta" was omitted from the initial Australian pressing on Punktured Media. That's being corrected and they will send you a download, but caveat emptor.
When news surfaced that the current line-up planned to re-record a classic rather than forge on with new material, my reaction was to be underwhelmed. Band combinations can be fleeting and it seemed a waste of rare talent. Let's hope the oversight is rectified in the near future.



1/2
Tags: rose tattoo, angry anderson, outlaws, pete wells